Continuing our series on beautiful, lush travel destinations in the Northeast, this lovely Rhode Island sunflower farm showcases some of the most beautiful sunflower fields in New England.
Dame Farm & Orchards in Johnston, Rhode Island, has been tending the same land since the early 1800s. Today, their pick-your-own sunflower fields are some of the most beautiful flower fields in Rhode Island– and they only bloom for 2 weeks out of the year!
In part because of their seasonality– and the gorgeous yellow, white, and red carpet they form across the landscape– these sunflower fields are one of our favorite family-friendly, date-friendly, and/or solo outdoor activities in Rhode Island. For pick-your-own sunflowers, it's an area staple.
A visit here is ethereal, relaxing, and downright charming.
If you're looking for a place to go sunflower picking in Rhode Island, add this destination to the top of your list!
***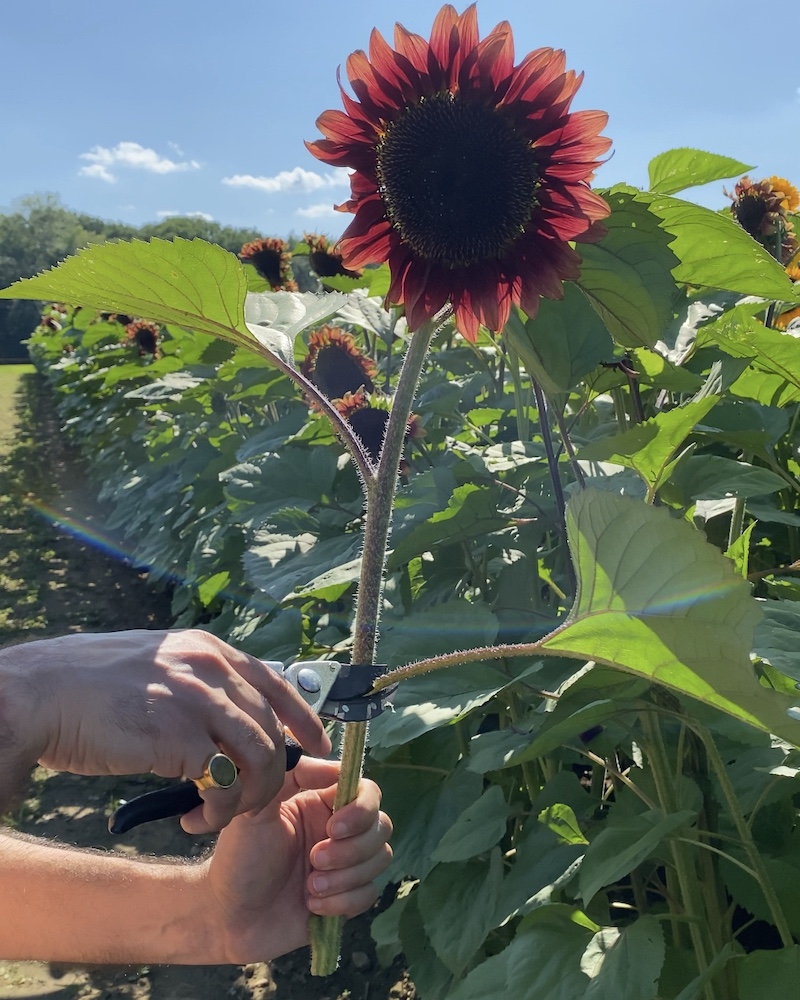 When to Visit
Visit Dame Farm and Orchards on an afternoon in July for the best experience. That's when the sunflowers are finally in bloom. (The website and social media keeps repeat visitors updated as to when, specifically, the bloom begins each year. Either way, sunflowers are a July flower, so you can expect them to be dazzling this time of year.)
Once the bloom period is announced, a regional frenzy takes place. Locals flock to experience impromptu sunflower picking, photoshoots in the sunflower fields, beautifully refracted light, wondrous stillness, and (if you're lucky) a calming, gentle breeze.
Lots of people like to take selfies, glam shots, and family photos here– but the farm is large enough that you can always find a row or patch of flowers to yourself.
Peak visits tend to take place during the height of the day (between 10 AM and 2 PM), so you can also arrive early or late for a little privacy. (On our last visit, we went later in the afternoon, around 4 PM, and had the place to ourselves.🌻✨)
View this post on Instagram
Pick-Your-Own Sunflowers, Rhode Island Style
As you can see from embedded videos above, the property has rare sunflower varieties that are uniquely suited to the New England summer climate. These include red sunflowers (Tithonia rotundifolia), white sunflowers, yellow-centered sunflowers, and the classic bumblebee sunflower (yellow petals with a furry black center, also known as Helianthus annuus). All of them are gorgeous!
The sight of thousands of sunflowers swaying in the summer breeze is uniquely serene– which seems fitting given that sunflowers are the international symbol of peace. It's lovely.
As far as Rhode Island day trips go, there are also a number of fun on-site activities worth pursuing after you roam the fields. (Again, it's great of kids or a date.)
Pick-your-own sunflowers to take home, or choose from a mix of sunflowers and other seasonal flowers (like sweet pea and dahlias) to create a colorfully rustic, seasonal bouquet. There are beautiful zinnia and dahlia fields, bursting with color in the Summer. (They also grow lilies, lavender, and eucalyptus, among other plants.)
Additionally, seasonal blueberry picking is available in the Summer (late June/July), as is pumpkin and apple picking in the Fall. Year-round, stop by the on-site farm store to shop fresh produce, flowers, drinks, and apple cider donuts.
Open-air parking is available on site. No pre-booking is required. Just show up and have fun!
Cost + What To Bring
Dame Farm and Orchards provides two different sizes of mason jars for flower picking. Both are $20 (cash or credit) and each has unique benefits. The large jar size is ideal if you are picking just sunflowers. The other, more squat jar has a wider mouth, which is better for picking a mix of sunflowers and other, more delicate garden flowers.
No matter which jar you choose, you can keep it. They'll fill the jar with water before sending you to the fields. Then return to the farm stand to pay whenever you are done. Dame Farm and Orchards also provides visitors with garden shears and instructions on how to best cut flowers for maximum longevity. (You're also welcome to bring your own clippers, if you prefer.)
Watch their videos on how to properly harvest sunflowers so that you don't harm the plant, here. (Ideally, you want the flowers to be a little more closed so that they will last longer at home in the vase. You also want to trim off excess leaves.)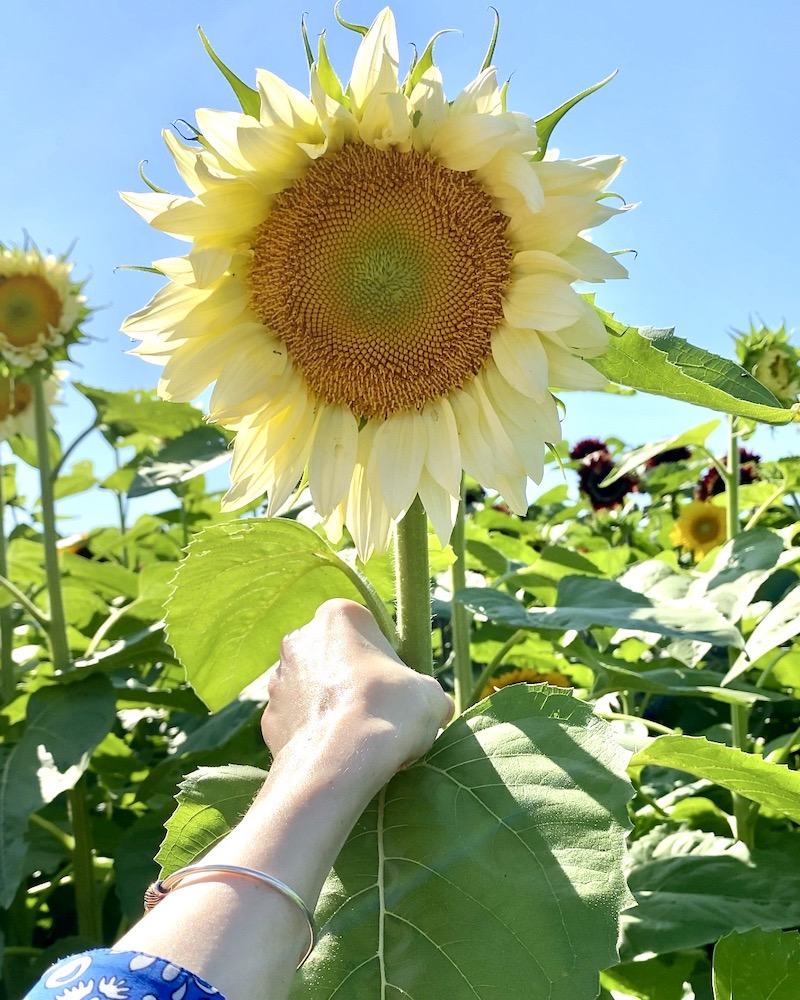 Hours of Operation
Dame Farm and Orchards is open from roughly 9 AM to 5:30 PM on weekdays, and 9 AM to 5 PM on Saturdays. They are closed Sundays. Hours are subject to change each season, however, so check their website for the latest hours and schedule updates.
And remember: spending time in nature is good for physical and mental health. (Being in nature is like taking Prozac… or so research suggests.) Flowers, in particular, connote a sense of wonder and awe that enhances wellbeing. Picking your own also supports local farmers and ecosystems. Everybody wins!
So, next time you're on the hunt for a beautiful Rhode Island day trip, consider Dame Farm and Orchards. It's a summertime hot spot that feels somehow hidden, even as more and more people have discovered their fields of golden sunshine. One stroll through Rhode Island's oldest sunflower fields and you'll understand why they keep coming back.
***
Related: Want more charming New England day trip ideas? Check out our Gorgeous Guide to Kennebunkport, Maine— one of the most beautiful beach towns on the East Coast.
If you're interested in a relaxing, flower-filled getaway further afield, scroll our Insider's Guide to the Hamptons.