Chicago is increasingly regarded as one of the best culinary cities in America when it comes to bakeries– and birthday cake in particular. It used to be that New York and LA were the only major cities putting cake artists on the map, but the advent of the TV series Cake Wars, social media, and other aspects of Internet culture have really democratized Chi-Town's access to beautiful, bespoke birthday cakes made by world class bakeries.
And who doesn't love getting a cool cake on their birthday? The best birthday cakes in Chicago are inventive, surprising, and unique. Everyone loves a charming birthday cake, moreover– but the key is to get one that also actually tastes good.
Fortunately, in a foodie city like Chicago, that's not hard to find. Below, we spotlight some of the best birthday cake makers in Chicago– as well as what they are known for and what else you shouldn't miss at each bakery.
Scroll our guide to the best, most beautiful birthday cake bakeries in Chicago, below.
***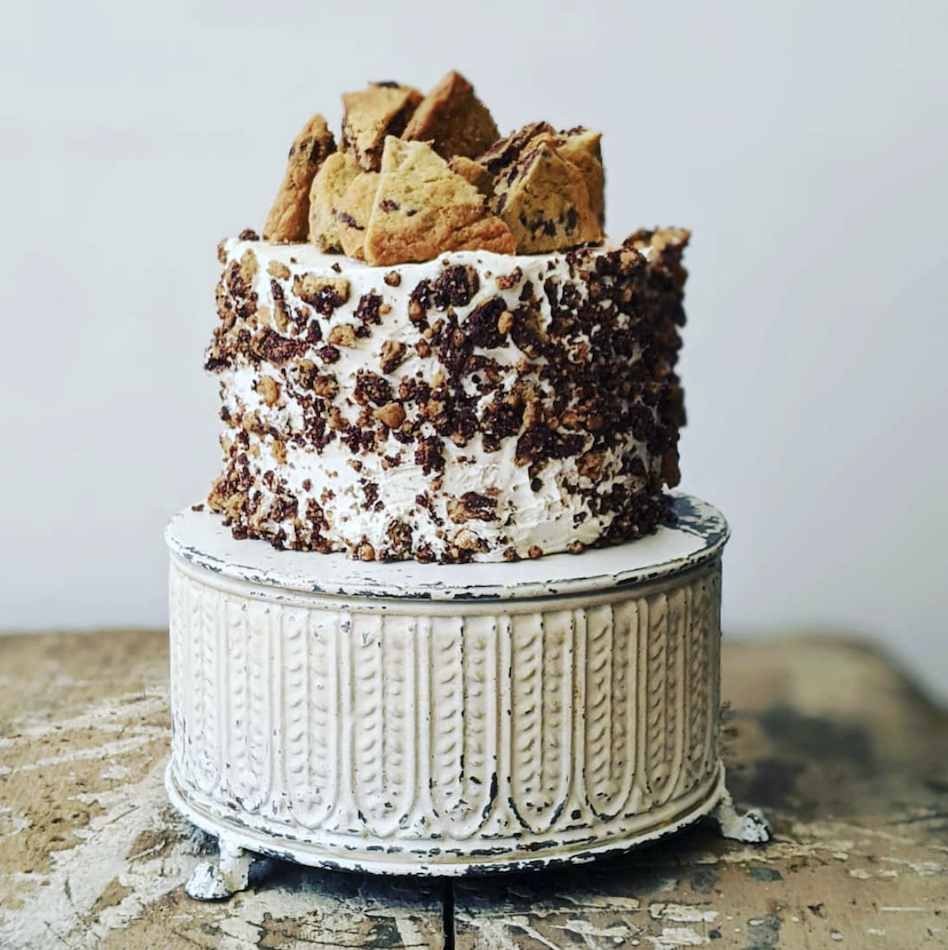 BAKE (For Rustic, Homemade Feel)
BAKE Chicago is a specialty bakery in Wicker Park that really focuses on flavor and decadence. While they only make the standard cakes listed on their menu (no custom cakes here!), all of their beautiful celebration cakes are superbly rich and tastefully designed. Helmed by husband and wife pastry chefs Eric and Jennifer Estrella, all of BAKE's cakes have a rustic, simple finish. Each looks like it could be on the cover of a home lifestyle magazine.
Take, for example, their artisan Chocolate Chip Cookie Cake (above)– or their recent upscale take on a Peanut Butter and Jelly cake. (Their classic chocolate chip cake contains chocolate chip cookies baked into vanilla cake layers, filled and frosted with chocolate chip buttercream. Super original!) We also love how their Rainbow Cake is styled like a naked cake– a trendy twist on the whimsical classic. All of these detail flourishes and more ultimately give BAKE's products a handmade, homemade feel.
Plus, the sour cream icing on their Old Fashioned Chocolate Cake is divine. And it's ideal for people who always request chocolate birthday cakes. They use the same frosting on their Marble (half vanilla, half chocolate) cakes– even better for people who can't decide! All cakes are baked in 4″, 6″, 8″, 10″ and 12″ rounds, though they can be made larger upon request.
Order BAKE birthday cakes online, here with at least 48 hours notice. (You can also order cupcakes and cookies through the same portal, which is ideal for birthday parties.) Find more info on cake flavors and pricing here.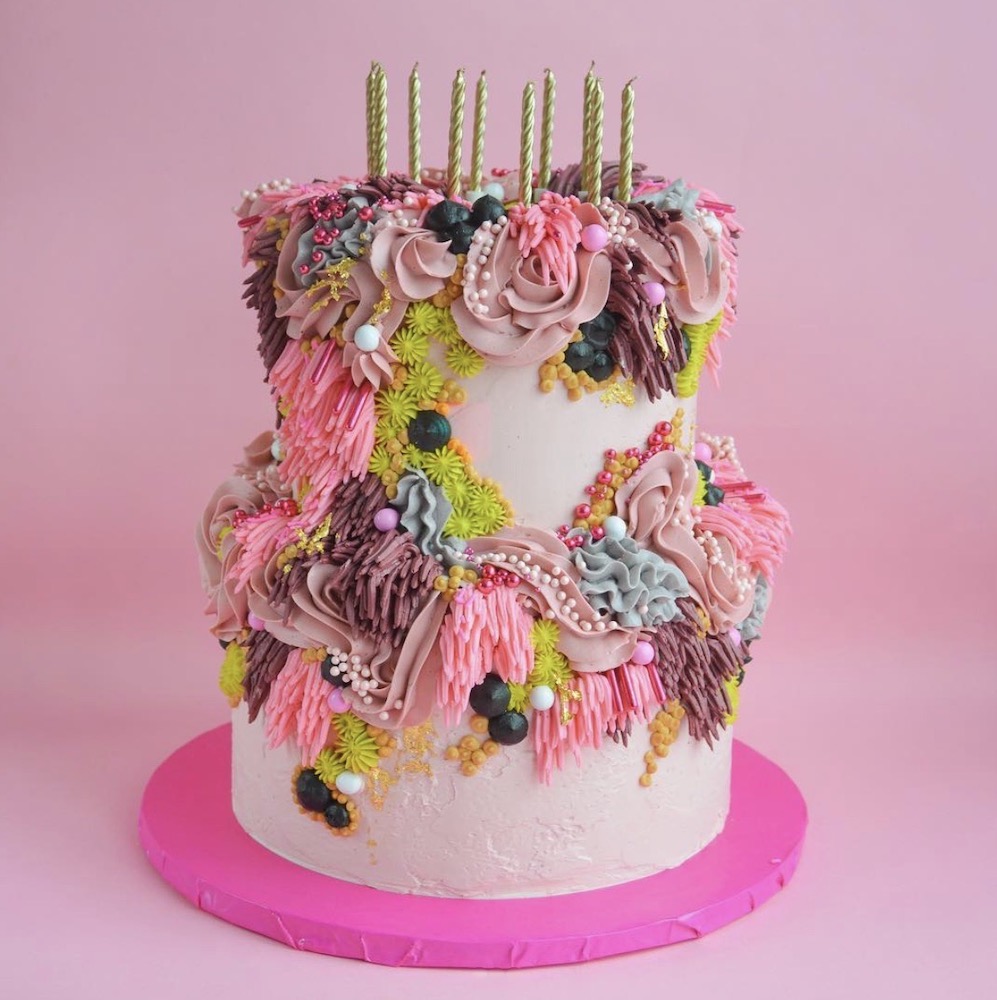 Bon Vivant Cakes (For Iconic Shag Cake)
If you're looking for a colorful, whimsical, super unique birthday cake in Chicago, look no further than Bon Vivant Cakes. If NYC is famous for putting explosion cakes on the map, this bakery is responsible for answering with an endearingly cheeky concept: shag cakes. Inspired by "fuzzy textiles and funky wallhangings", Bon Vivant's playful concept makes for one of the most unique birthday cakes in Chicago.
We love the colorful, effusive joy that seems to spring from these cakes, the original concept of Bon Vivant's mastermind cake maker Emily Nejad. Everyone who sees her cakes can't help but crack a smile– especially design lovers.
Order one of Bon Vivant's iconic shag cakes here. Simply choose the style and color palette and they'll take care of the rest. Please note that Bon Vivant requires a minimum 7 days advance notice for these orders. (The cakes are not cheap, but they are worth it if you're into maximalism and extravagance.)
Also, I'd be remiss if I didn't mention that Bon Vivant Cakes also does lovely "Queen Frostine" ice cream cone cakes, wavy stencil cakes, and even honorific 90's cakes. All of their designs are ultra whimsical, always vibrant, and enduringly one-of-a-kind. We love them. Even the template cakes are designed a little differently every time, so you're sure to have a birthday cake that no one has ever had before.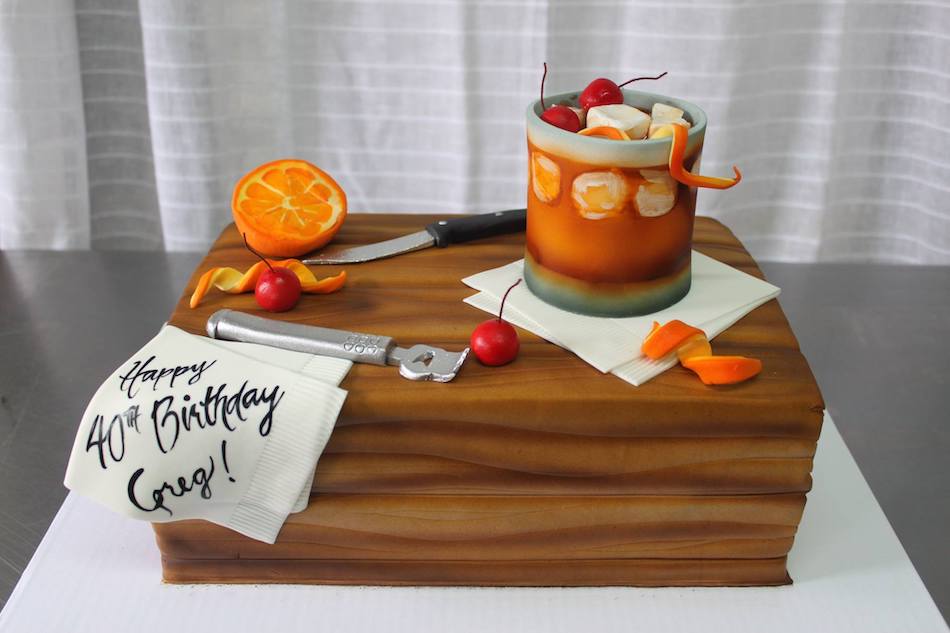 Alliance Bakery (For Elaborate 3-D Cakes)
Wicker Park hot spot Alliance Bakery is a French-style patisserie that makes exquisite layer cakes for all occasions. They also make 3-D cakes, hand-painted cakes, adorable kids birthday cakes, as well as colorful custom cakes. If you can imagine it, they can make it. (And, because they are one of Chicago's best cake makers, they also make their fair share of Kanye West jokes, just to make it clear that they don't take themselves too seriously. Chicago native Chance The Rapper also orders his birthday cakes from here.) If you're looking for a custom birthday cake in Chicago, Alliance is the bakery for you.
Despite the grand displays, Alliance Bakery cakes also deliver on flavor. (When you pay to have a custom birthday cake made, it should also be delicious, after all.) We like the hazelnut cake with chocolate mousse and whipped cream frosting combo. Their specialty banana cake, and their salted caramel buttercream, are both divine. (They also make gluten-free cakes and vegan cakes, but be advised these cost 50% extra.)
For what it's worth, Alliance Bakery also provides all the custom cakes for Tao Chicago, one of the city's hottest clubs. Taraji P. Henson famously had a birthday here, and the footage on Tao's website of her blowing out the candles on her birthday cake is with a cake from Alliance Bakery. So there's that.
Get a quote for your custom birthday cake order, here.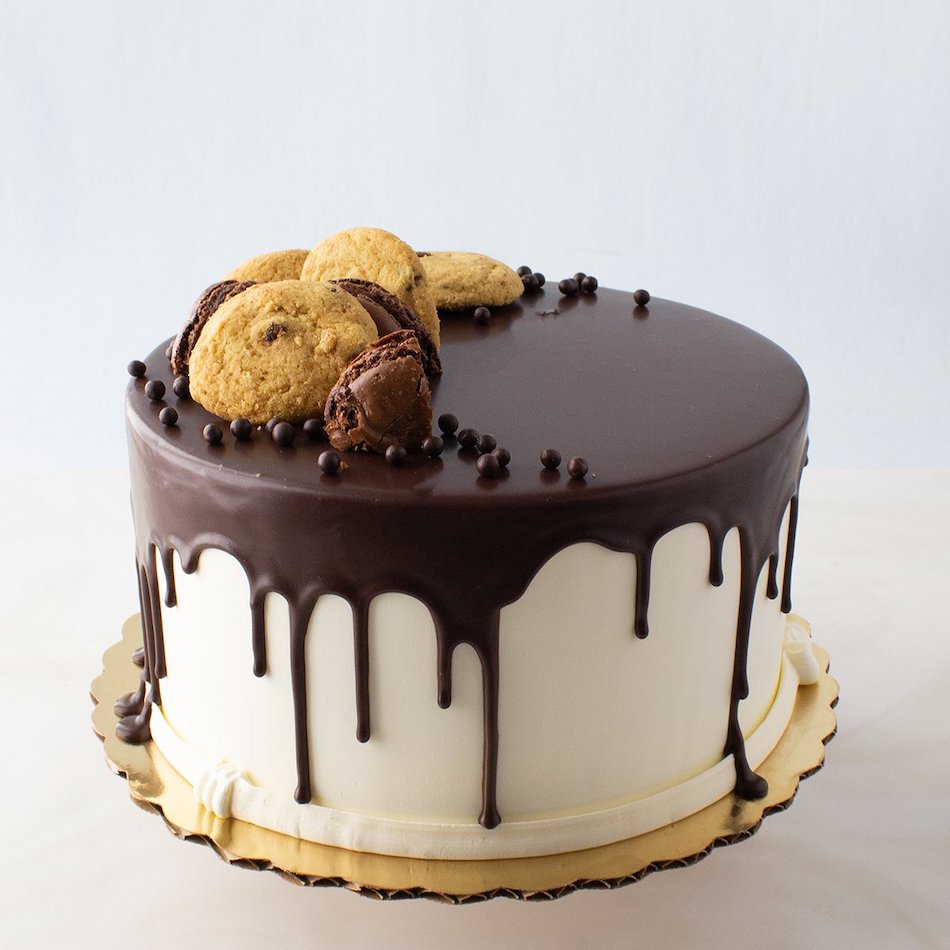 Bittersweet Pastry Shop (For Cute, Modern Concepts)
The designer birthday cakes at Bittersweet Pastry Shop are some of Chicago's finest and most approachable. They have an amazing array of step-by-step plug-and-play cake combos that let you customize everything from flavor and filling to size and decoration from the pre-fix cake menu. If you don't love something you already see there, they'll work with you to create something truly custom and one-of-a-kind (request a custom cake quote here).
We love their beautiful Strawberry White Chocolate layer cake, which consists of bright pink strawberry cake layered with vanilla buttercream, strawberry preserves, and white chocolate mousse. It's lovely and ethereal– a perfect summer cake! Meanwhile, the decadent Fudge & Salted Caramel cake is ideal for a cold Chicago winter. (It's rich, comforting, and decadent fudge cake balances perfectly with the salted caramel buttercream and layers of fudge-y frosting filling.)
The designs here are smart and timeless. Think: chocolate curls, fresh berries, flowers, edible confetti, and tasteful personalized written messages available for no additional charge. They also make incredible 3D cakes for those who want designs that are a little more complicated, and an array of designer cakes (think: gold leaf, naked cakes) for those who want the minimalist designer aesthetic.
Additionally, they offer Gluten-Free Vanilla Creme Brûlée cakes and Gluten-Free Chocolate Creme Brûlée cakes, as well as Gluten-Free Chocolate Raspberry cakes, though the bakery itself is not dedicated gluten-free in case you have a strict allergy. (Just sayin'.)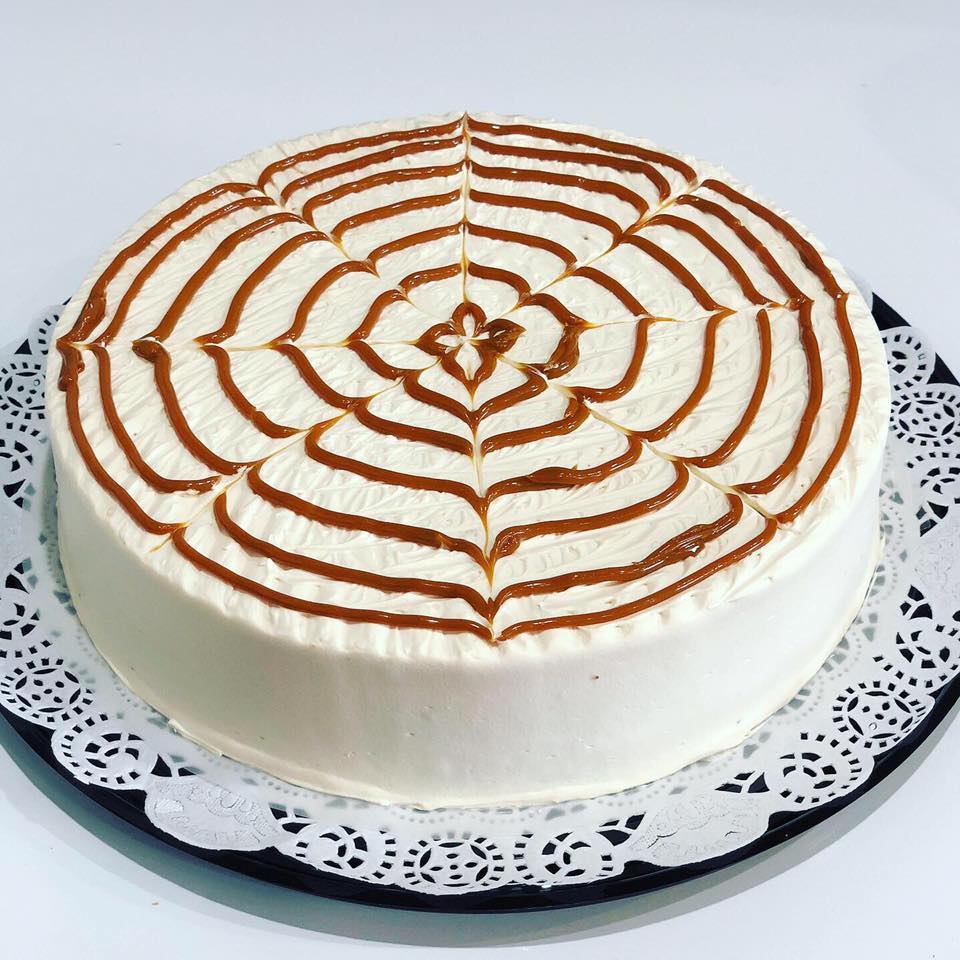 Kristoffer's Cakes (For Famous Tres Leches Cakes)
Kristoffer's Cakes is known for their iconic homemade tres leches cakes, which is the item that put them on the map. Their vanilla tres leches cake comes with white or chocolate frosting, and is known for it's excellent crumb and springy texture. (It's a family recipe that the owners have kept secret since the bakery opened over 13 years ago.)
If you're looking for something more unique, try their Caramel Mocha Tres Leches cake, the wildly-popular Oreo Tres Leches cake, a Mango Tres Leches cake, a Cappuccino Tres Leches cake, or a Pumpkin Tres Leches cake– you get the idea. The bakery, moreover, specializes in a wide variety of flavors when it comes to traditional tres leches formulations. Fortunately, they do each of them very well. This bakery knows their audience and what they like.
Ultimately, if you're looking for a delicious tres leches birthday cake in Chicago, Kristoffer's is THE go-to bakery for the job. (And who knows? The festive, colorful Celebration "Sprinkles" Tres Leches cake might just be the perfect fit.) Plus, for what it's worth, the bakery also makes incredible chocoflan, horchata lattes, and sweet chocolate & coconut "Abuelita" tamales– but those are another story entirely. It's a specific niche, but they've mastered it entirely.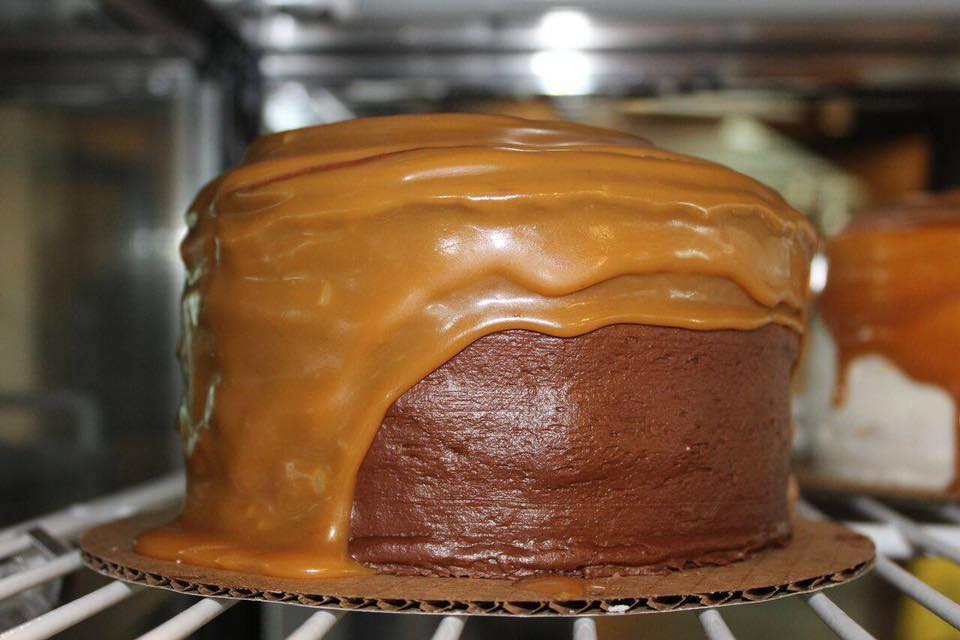 Brown Sugar Bakery (For Tasty Southern Cakes)
Brown Sugar Bakery is Southern-style sweet shop on Chicago's East Side with a devoted local following. Their 2-layer house carmel cake is easily the most popular, but they also do a mean sweet potato pie and incredible pumpkin pies around Thanksgiving. Check them out if you're looking for a rich, decadent birthday cake that tastes better than homemade but with all the love. (And if you like pound cake– well, this is the best bakery in Chicago for it. No one does it better than Brown Sugar Bakery!)
Also, just because the flavors here are traditional doesn't mean they don't also have fun with their concepts. Ask about their rainbow sherbet cake! Owner/head baker Stephanie Hart is endlessly creative, and they can do concept birthday cakes upon request. We love their Carmel Pecan cake and their premium "Obama" cake (it is Chicago, after all).
Ultimately, this bakery is known for great customer service and super moist, delicious cakes. Chocolate, caramel, or both? You decide. No matter what you choose, you'll be coming back for more. Check out their full menu, here.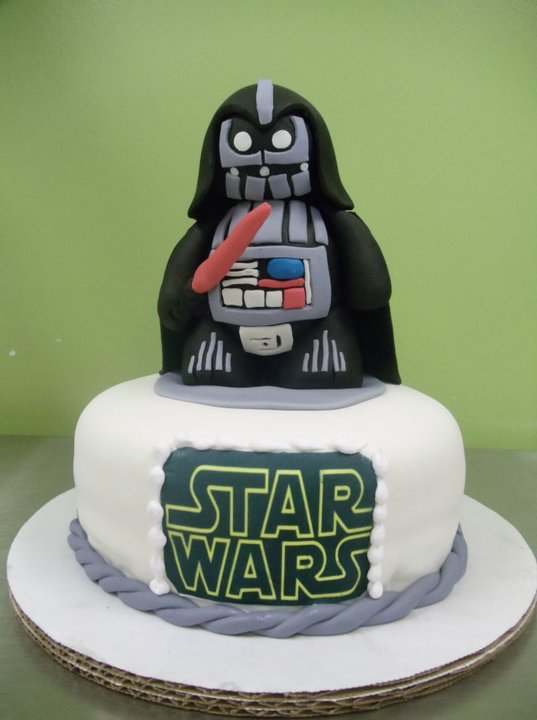 Mr. Cake Inc (For More Affordable Cakes)
We love Mr. Cake's aesthetically charming pastel birthday cakes. This bakery has been making some of Chicago's most whimsical celebration cakes for over 20 years! When it comes to the cake itself, they stick to traditional flavors (chocolate, vanilla, carrot, red velvet) and fillings (Oreo, fresh bananas, fresh raspberries, Bavarian cream). Customers can choose between buttercream and whipped cream frosting, and customized designs.
They make themed children's layer cakes that are ideal for parties, as well as creative 3-D themed cakes. (See above.) Plus, Mr. Cake makes what are easily some of the most affordable birthday cakes in Chicago.
Please note, they bakery does not accept or take orders via email. All birthday cake orders must be called in or placed in-store at Mr. Cake's Diversity Ave bakery.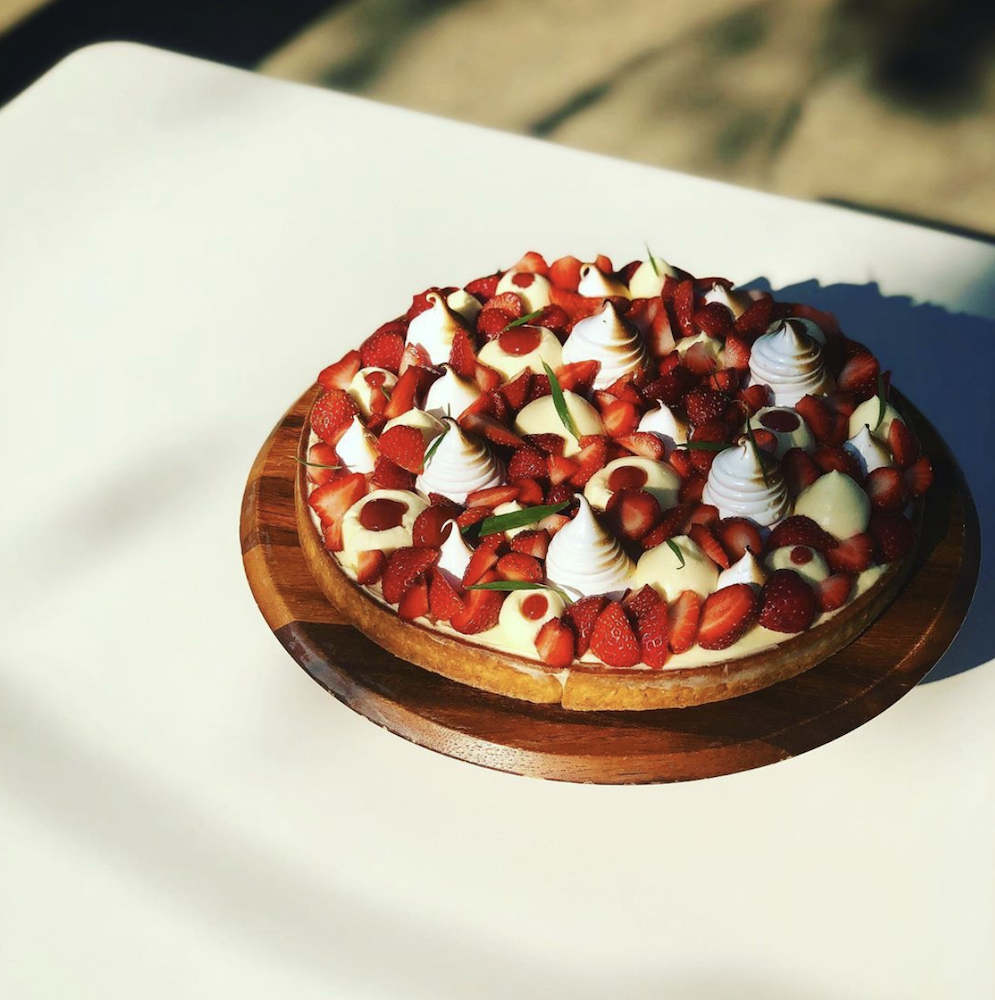 Lost Larson (For European-Style Cakes)
Lost Larson is a charming little neighborhood bakery and cafe in Andersonville that specializes in pastry– and they also just happen to be one of the Top 10 Bakeries in North America. They don't do traditional birthday cakes, per se– however, they have a limited, elegant menu of custom cakes available for purchase. As a result, Lost Larson is a great place to get a birthday cakes for someone who like more of a European-style cake; that is, fruit rather than frosting.
Consider, for example, their gorgeous lingonberry almond cake (a dense, buttery cake that's not-too-sweet,) or their lovely pastel Princess Cake (a traditional Swedish Princesstarta). These are both signature specialty items. The bakery has also have been known to produce gorgeous seasonal frangipane tarts. The above picture is of their strawberry jam + rhubarb frangipane tart topped with creme fraiche diplomat, toasted meringue, tarragon, and fresh Michigan strawberries. It's a light, freshing twist on a classic summer birthday cake– and the meringue makes a perfect stand for candles.
Ultimately, the carrot cake here is exceptional— we love it. Accordingly, we also strongly recommend Lost Larson for people who love carrot cake. (It's definitely "a type".)
All cakes are made to order and require at least 72 hours advance notice. View Lost Larson's special order cake menu, here.
***
Need a cool birthday cake in another city? Consult our beautiful American Birthday Cake archive, here.