Bristol, Rhode Island is a small coastal town known for its seafood– in particular, oysters– and its lively waterfront dining scene. As a result, the best restaurants in Bristol are great places to try Rhode Island coastal cuisine and uniquely local dishes made from regionally-sourced meat, dairy, veg, and baked goods.
With its cute, walkable downtown and ubiquity of waterfront patios, Bristol offers a range of cozy eating environments, from super casual to upscale and refined. Regardless of the vibe you're seeking, this list features something for everyone.
Need a family-friendly restaurant for lunch on the water? We've got you covered. Going on a fancy dinner date? Check. Pining for a quick cup of coffee or a locally-sourced homestyle breakfast? You're in the right place.
Oh– and there's also wonderful ice cream, fast-casual cafes, and even Chinese food to be found in the area, as long as you know where to look. (And fortunately, we do. Thus, we've included insider details on what to order where throughout this guide.)
Below, we spotlight the best restaurants in Bristol, Rhode Island. Now pull up a chair on the sparkling waterfront and enjoy!
***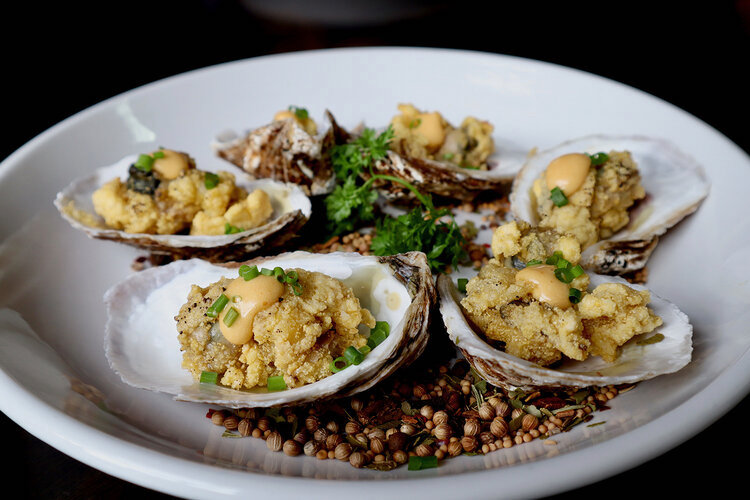 Bristol Oyster Bar
This small, intimate oyster bar is easily the best place in Bristol to go for fresh oysters. Locals and tourists alike absolutely love the intimate Bristol Oyster Bar, which offers great happy hour deals ($1 oysters from 4 to 6 PM during peak season). If you love oysters, this is the Bristol restaurant for you!
Bristol Oyster Bar– B.O.B., if you will– is a gorgeous place to go for gorgeous local seafood classics in a refined, beautifully designed environment. The food here is an excellent representation of New Seafood at its finest, from umami-rich mussels and fresh clam linguini to pan-seared sea scallops, grilled Atlantic Salmon, and fried Little Necks.
If you don't like raw oysters, try them fried (see above). Otherwise, ask your server to guide you through the local selection at the beautiful glass oyster bar. (<— Ask to sit here for the classic experience if you can.)
The restaurant even has a cool artists' rendering on the wall that shows which parts of the Rhode Island coast their oysters were sourced from that day. It's amazing! And with its central location in Downtown Bristol, it feels like a hidden gem– it's a small space, but very, very special.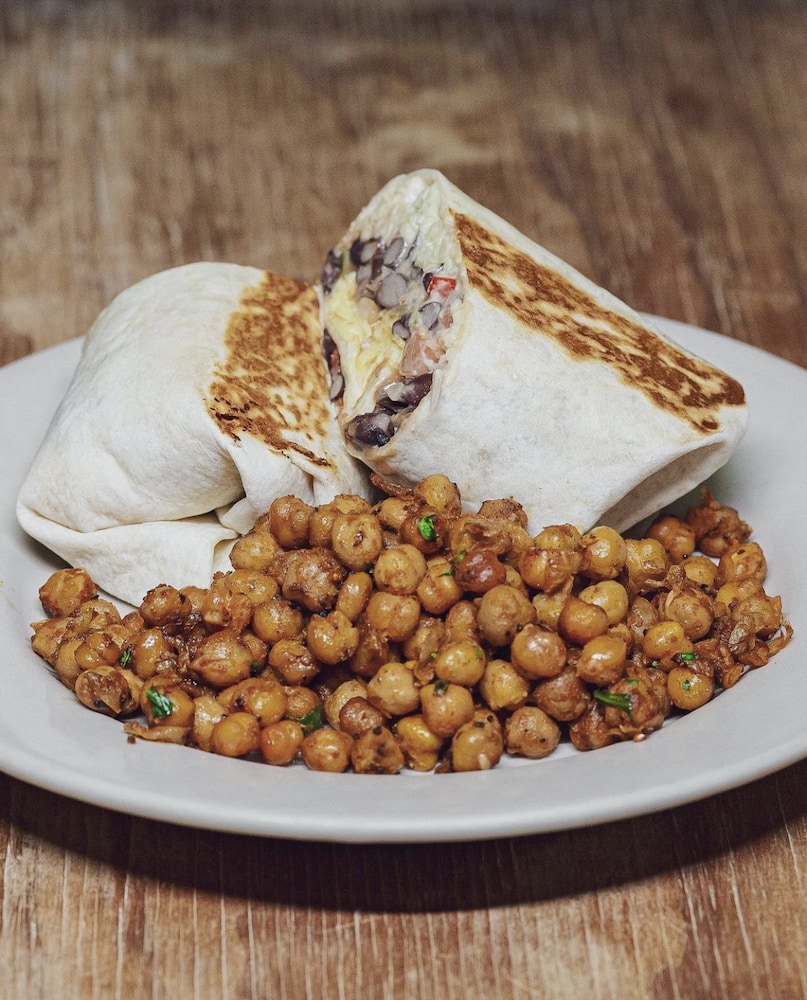 The Beehive Cafe
Beloved baked goods and killer brunch make this buzzy breakfast and lunch hot spot one of the best places to eat in Bristol. The Beehive Cafe is a homey locavore diner's dream, known for its charming ambiance and truly lovely, locally-sourced, American-style breakfast.
Located in a cozy two-story space with both indoor and patio seating, the cafe specializes in seasonal brunch classics and pastries. Organic coffee flows aplenty, and because they source everything locally, the menu changes with the seasons.
We love their insane, huge breakfast burrito (a local favorite!) as well as savory specials like salmon cakes with capers, hollandaise, and soft eggs. Otherwise, expect perfectly-runny yolks and loaded French toast specials like blueberry-ricotta, cannoli, or Nutella-stuffed French toast.
We also adore the tender GF Ricotta Pancakes when they're available, as well as the creative pancake specials (bacon + brown sugar pancakes, pineapple upside down pancakes… you get the idea).
Still, if you're a breakfast purist, you can't go wrong with standards like a crumb-top blueberry muffin or the All American Breakfast. The latter features perfectly-cooked eggs of your choosing, great shoestring hash browns, huge strips of crispy bacon, French toast, and a thick slice of hearty smoked breakfast ham. (Meat-lovers can also add house made sausage on the side, which is enough food to fill you for days.)
Even the sides and breakfast pastries here are thoughtfully imagined and drool-worthy. Order your breakfast burrito with a side of crispy zesty chickpeas– or compliment your toasted s'mores latte with a pillowy Bacon & Cheese Egg pocket. It's all good, right down to the thick slices of toast served with dishes like Turkish Menemen or Butternut Cornbread Hash & Eggs. (This toast is– of course— made with homemade bread.)
Overall, Beehive is a cute, quintessentially "New England" style cafe that should be on every local's food Bucket List. Don't miss out!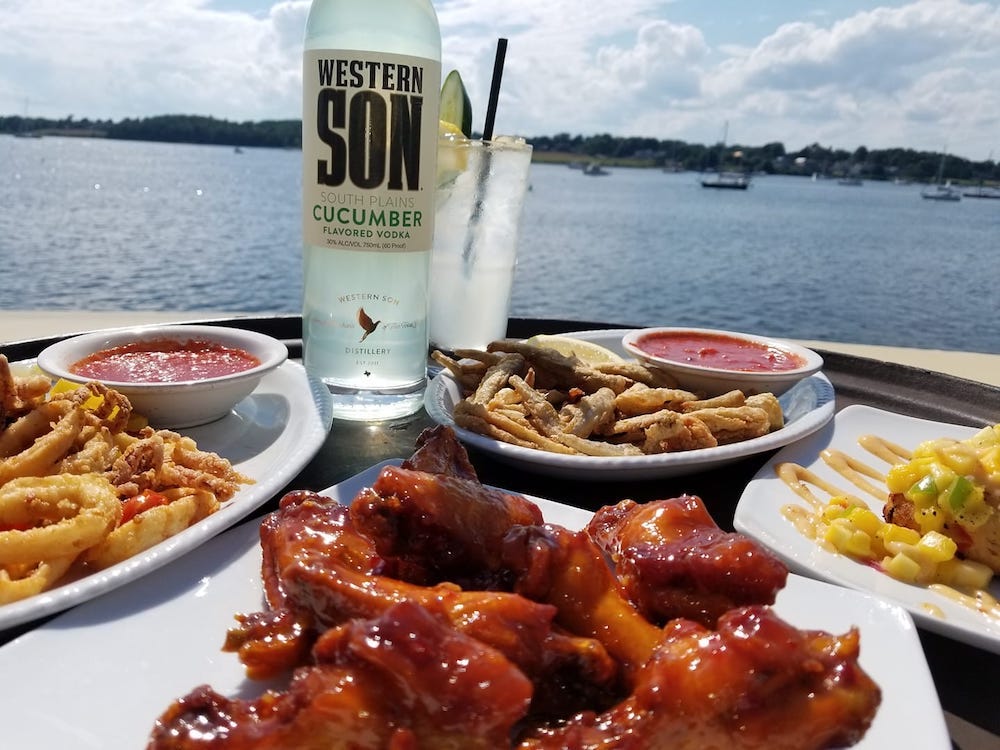 Thames Waterside Bar & Grill
Casual, straightforward American seafood classics come alive at this iconic Bristol restaurant, which has amazing views and a lively atmosphere in the summer. Thames Waterside Bar & Grill is the perfect place to enjoy a drink and bar food in a sunny Adirondack chair immediately overlooking the water.
We love the crispy calamari and jumbo stuffed quahogs, but they also do a great lobster roll, pan-seared halibut, little necks, and other Rhode Island seafood classics. We love the dazzling roof deck– there's no better atmosphere for dining in Bristol on a nice summer day. Plus, the service is friendly and upbeat.
The cocktails, meanwhile, can really hold their own. Try their spiked cucumber lemonade in the summer or an Apple Cider Old Fashion in the Fall. They also have a respectable selection of local and seasonal craft beers on draft.
Thames Waterside Bar & Grill also hosts local musicians, who perform live at the bar during the Spring and Summer months. Ultimately, the restaurant is a triple threat for food, drinks, and ambiance.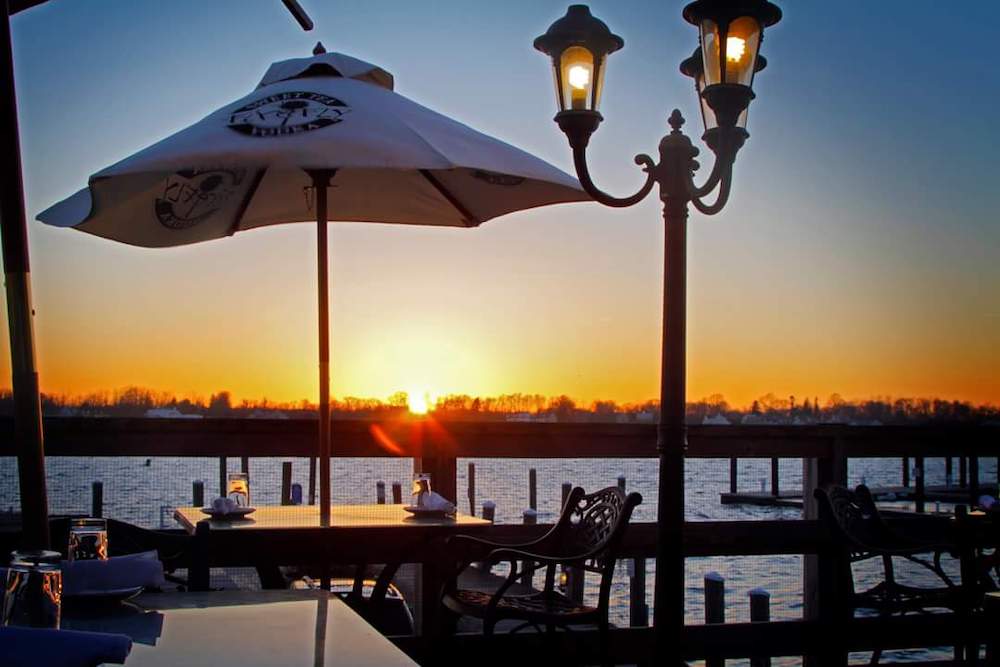 DeWolf Tavern
DeWolf Tavern is an upscale historic distillery with a lovely harbor-front patio and a notable rum collection. Specializing in Contemporary American cuisine with Indian flourishes, this polished restaurant is located in a renovated stone warehouse right on the Thames Street Landing waterfront, offering the best of both land and sea.
This is a great place to go for local oysters, lamb, coconut curry mussels, or a surprisingly excellent weekend brunch (we recommend the Goat Cheese Eggs Benedict). The composed desserts, meanwhile, are also wonderful, frequently featuring homemade ice cream, rich fruit compotes, and lots of plating finesse.
We love the view from upstairs, where there's a cozy fireplace and private dining rooms that overlook the harbor. When the weather warms, enjoy bay breeze with a drink and some shrimp pakora under the waterfront tented deck. The fact that you can also get a smoked salmon and caper naan pizza is just a bonus.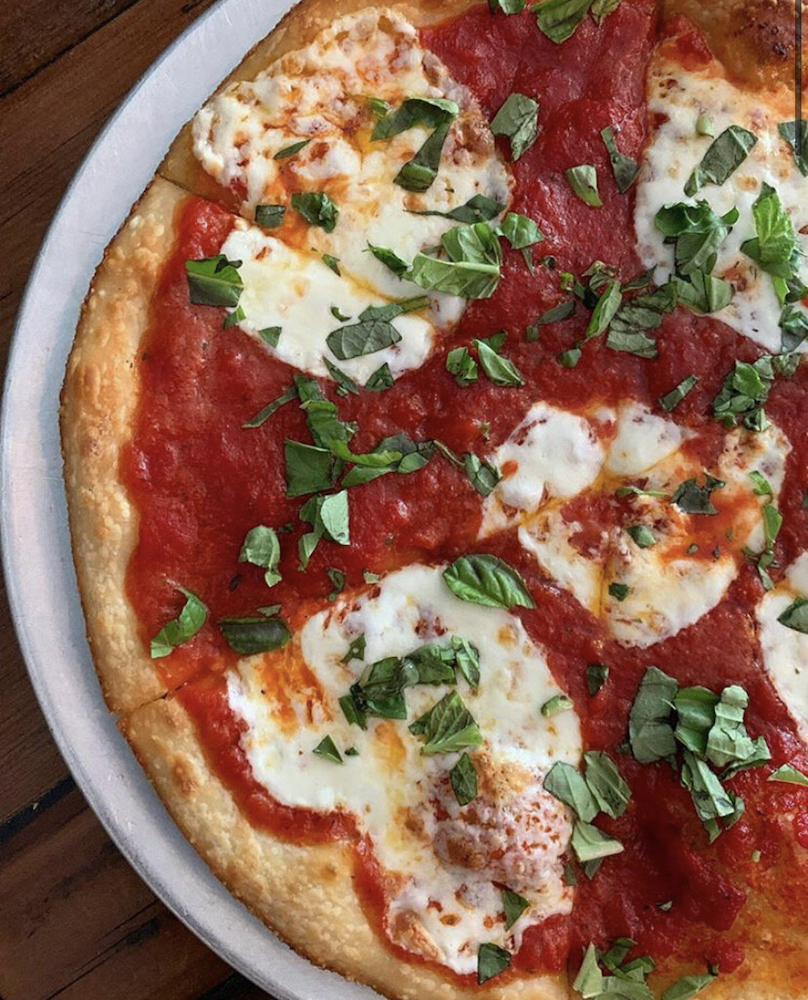 Pomodoro Pizzeria
Speaking of pizza, Pomodoro Pizzeria is a local staple for casual pizza pies, pasta, and rustic Italian classics like chicken, eggplant, or veal parmigiana and linguine with clam sauce. Wine lovers, meanwhile, will appreciate the classic varietals available here.
We love Mama's signature lasagna and their traditional "Sunday Gravy". Still, you can't go wrong with the classic bolognese or the gnocchi della nonna, either. All the food here has an endearing small-town feel, in the best way.
For a real treat, try "The Rhode Islander" pizza, spun up with local fried Point Judith calamari, garlic butter, hot peppers, and mozzarella. You can also build-your-own pizza choosing from a variety of toppings (from artichoke hearts to calamari to gorgonzola, sausage, and more) or choose the gluten-free pizza option.
Ultimately, the menu here is simple and straightforward, the way true Italian eating should be. And when in doubt over what to choose, you can always order a single meatball on the side. 🙂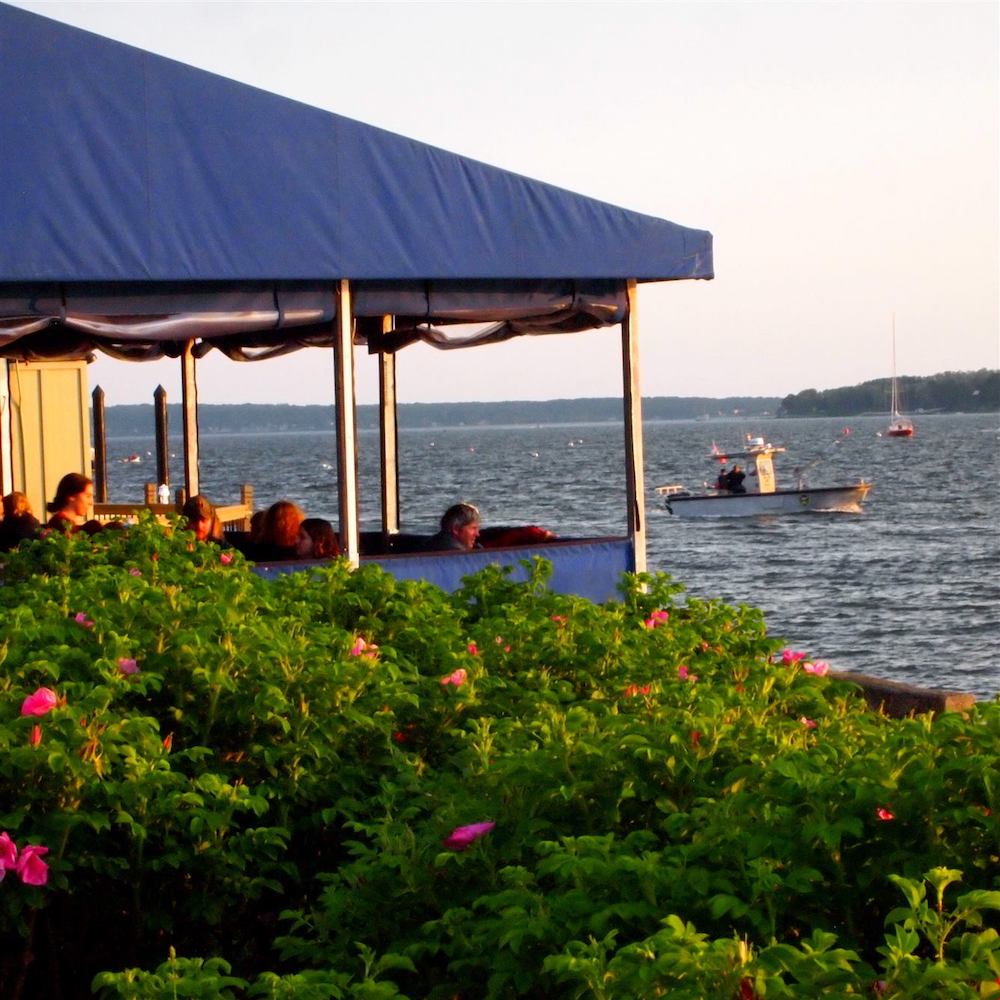 Quito's Restaurant
This super casual seasonal outdoor seafood shanty has a great raw bar that's ideal for the summer months. The family-friendly dock seating at Quito's Restaurant (above) is well-attended when the weather warms up, and it doesn't have an ounce of pretense.
People love the fried seafood platters (they also have grilled, pan-seared, and baked options) and the wide variety of chowders.
Serious shellfish lovers enjoy the traditional lobster and clam rolls, while shellfish purists enjoy classic baked seafood casserole and ginormous plates of crispy, pan-seared sea scallops with a side of smashed red bliss potatoes. And for those who want to try New England lobster, native cherry stones, or native little necks, there's no better place to go. And fortunately the prices– like the incredible portions– are generous.
Dining at Quito's at sunset is the perfect end to a summer weekend. What started as a humble clam shack in 1954 has now grown into a Bristol institution, with 32 tables open 9 months out of the year. (Not bad business for a town that is, for all intents and purposes, profoundly seasonal.)
If you haven't yet eaten a classic Stuffed Quahog in Rhode Island, Quito's is a great place to do so. Also, the Hot Crab Dip, while super rich, is sensational.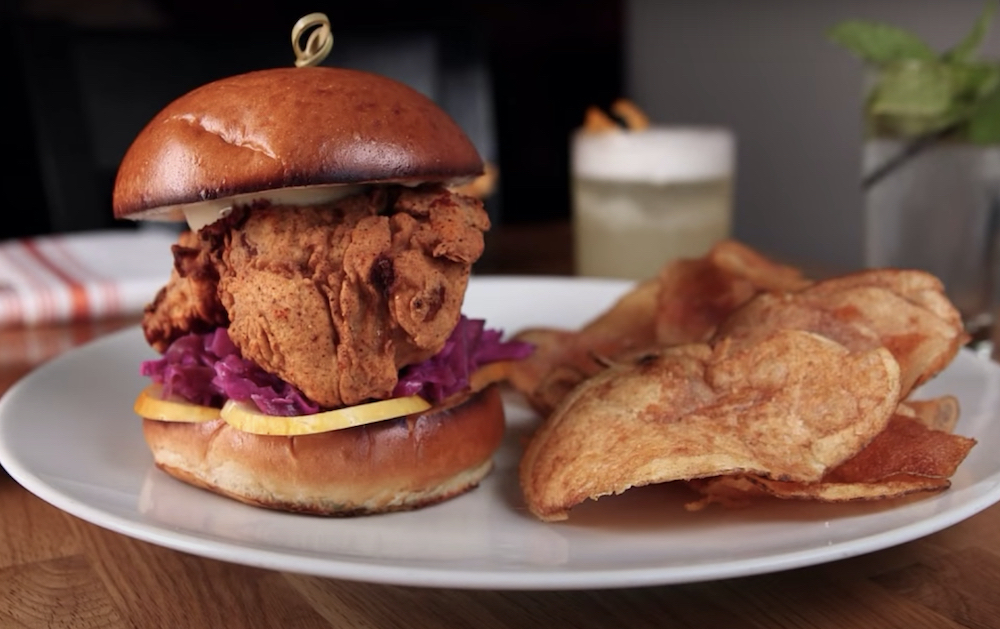 Statesman Tavern
Statesman Tavern is a small but endearing and enduringly delicious Bristol restaurant that specializes in nouveau American classics. Go here for authentic Rhode Island style calamari (banana peppers, roasted garlic butter, fresh herb marinara) or the Rhode Island style clams and mussels with bacon, garlic, and miso.
Visitors also enjoy foodie twists on local seafood fare, like Crispy Tempera Cod Sandwiches and Fried Cod Bites with crispy panko, red cabbage slaw, and house made tartar sauce. Plus, there are frequently more worldly options on this menu than you can typically find elsewhere in Bristol. Appetizers like Smoked Beet Hummus and a super famous Southern-style Pimento Cheese dip are on frequent rotation.
For Mains, the roster here is short and to the point. Expect entrees like Seared Scallops with house made pasta, capers, tomato, garlic, crispy kale; wonderful Steak Frites; inimitable Mushroom Pasta, and the like.
We adore their Buttermilk Fried Chicken Sandwich (one of the best in the country, no doubt!) and the excellent Bacon Double Cheeseburger is likely the best in Bristol.
Above all, the Tavern's seasonal cocktails here are spectacular. In honor of the historic building in which the low-lit bar resides, each one is lovingly-crafted from the best local and international spirits, house made bitters and simple syrups, fresh juices, and local herbs that change over as often as the food menu. As a result, the restaurant hosts a great social hour with cocktails and apps that's perfect for gathering with friends.
The famous Pimento Cheese appetizer, iconic Mushroom Pasta, and insanely delicious Buttermilk Fried Chicken sandwich are not-to-be-missed. And those cocktails– well, they just don't get any better.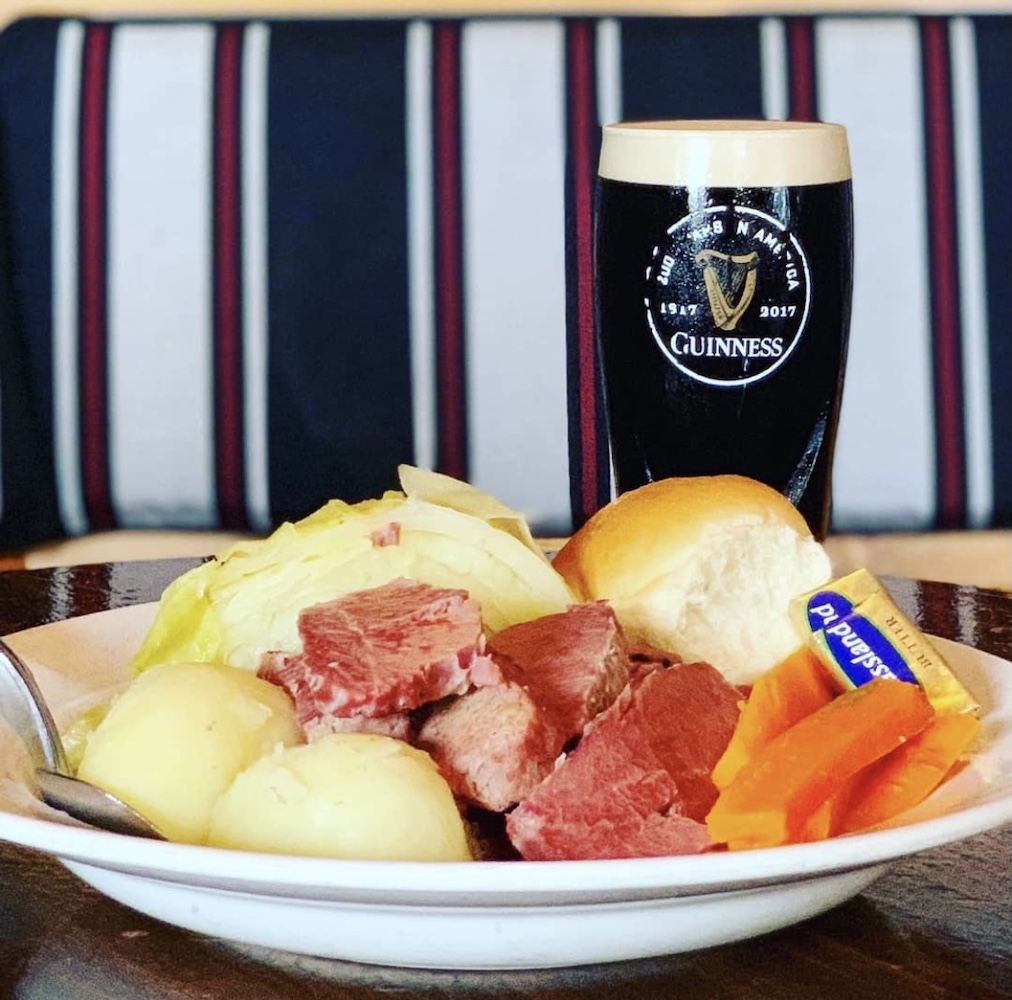 Aidan's Pub
This cozy neighborhood bar has over 60+ beers, Irish-style comfort food, and occasional live music. While Aidan's Pub is not typically included in articles about Bristol's best restaurants, locals love it.
The Thursday Irish corned beef and cabbage dinner is the real draw here. It's a local tradition that has brought regulars in for the last 27 years! Pair with a Guinness for the quintessential experience. (You won't leave hungry, that's for sure.)
Aidan's also does great frozen mudslides in the summer, as well as hearty meatloaf piled high with mashed potatoes and caramelized onions, and classic french onion soup in a bread bowl in the winter. (Like we said: they specialize in comfort food.)
Ultimately, if you're looking for traditional Irish food in the East Bay, this is the Bristol restaurant for you.
~ Honorable Mention ~
Other local food haunts worth checking out.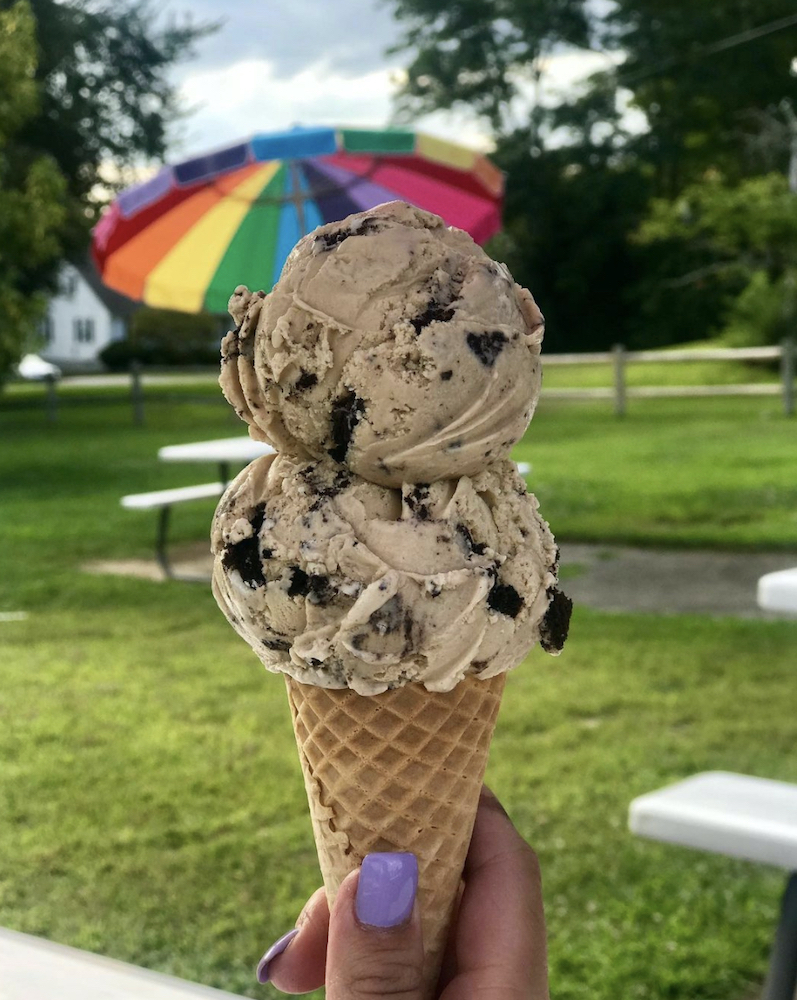 Eskimo King (Great Ice Cream + Soft Serve)
This old-school soft serve destination has the area's most extensive menu of ice cream and frozen yogurt. Eskimo King is an endearing kitschy relic of coastal Americana, with a giant statue of a 1950's googie-style ice cream man holding his soft serve cone like the Statue of Liberty holds her flame.
In the summer, locals line up to get specialty scoops like the chocolate raspberry truffle, classic cookie dough, and cappuccino crunch. Eskimo King has over 350+ flavors of soft serve, and you even have the option to make your own! Above all, don't miss the incredible homemade waffle cones (seriously– be sure to try one).
We also love their classic hot fudge sundae (a local favorite) and the crunchy chocolate dip which makes a perfect casing for their hard scoop ice cream. The coffee ice cream sandwich– another Rhode Island classic!– is also a thing of beauty.
The hand-packed ice cream cakes and pies, meanwhile, are perfect for birthdays and 4th of July celebrations (which as you probably know, are a big deal in Bristol).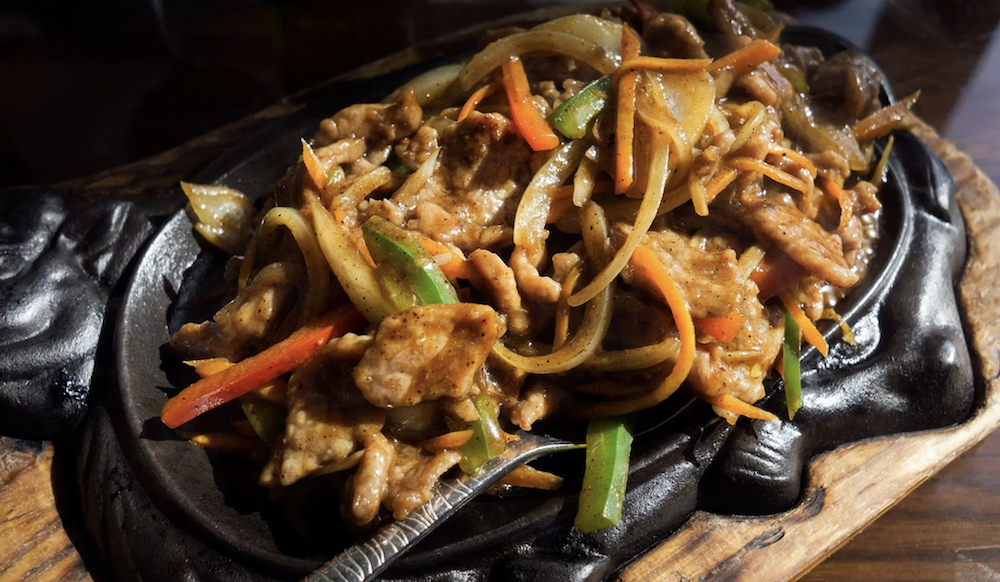 Luke's Inn (Old School Chinese Food)
Luke's Inn is technically located in neighboring Warren, but they serve the area's best Chinese food and pan-Asian Polynesian food, easily. We love the round-noodle lo mein, the pillowy dumplings in their classic wonton soup (recommend!), the well-filled crispy eggrolls, and the sweet pork fried rice.
Overall, they've got great prices which are an exceptional value for the portions. Plus, the broth in their Chow Mein is really collagen-rich and mature. You can tell they don't cut corners and cook everything the slow, old fashioned way.
Still, we recommend Luke's for take-out as the ambiance isn't much to write home about– unlike the scallion pancakes and Luke's signature chicken which, for the record, we can't get enough of.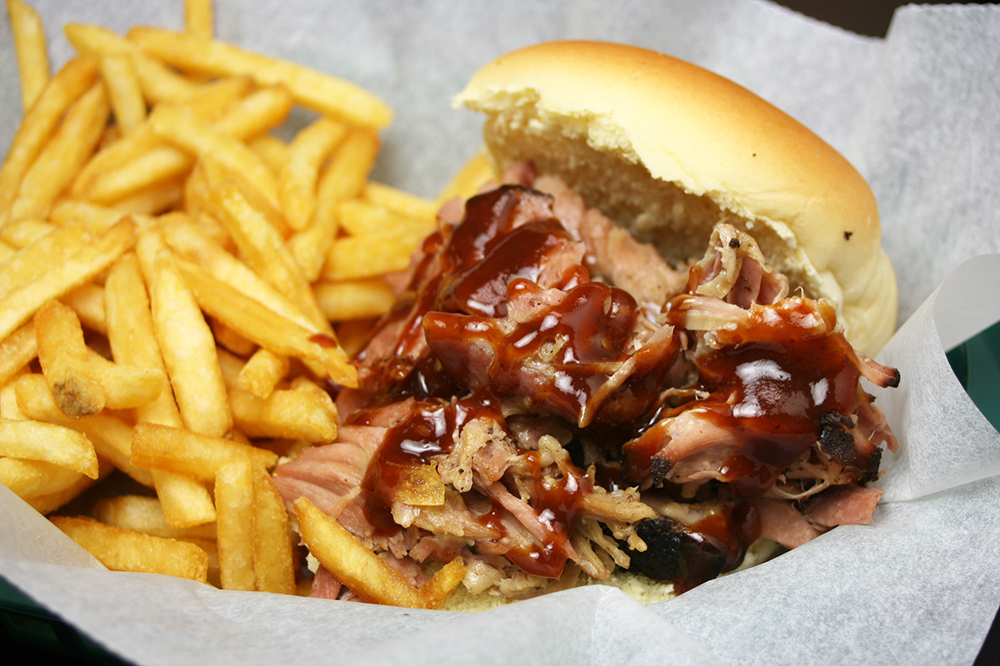 Ed's Famous BBQ (Great Mac n' Cheese + Hand-Squeezed Lemonade!)
First of all, Ed's Famous BBQ has the best mac-n-cheese, ever: luscious shell pasta stuffed with two kinds of cheddar in a rich, creamy cheese sauce. So good! Here, they specialize in Southern-style, dry-rub barbecue with all the associated sides and fixin's.
Of course, people come for the meat– from St. Louis style spare ribs to enormous baby back ribs and pulled pork sandwiches drenched in sauce. Plus, the potato salad is old-school, made with mustard, and the cornbread is baked with just a touch of honey. They even sell hand-squeezed lemonade, which is perfect for summer.
No matter what you order, be sure to sample their wide variety of sauces, from OG vinegar-based BBQ sauce to sweet & spicy honey mustard. It's all good, and ideal for sharing.
Why cook for a 4th of July celebration in Bristol when you can get takeout from the best BBQ around?
***
Related: Plan your next day trip to Rhode Island's Most Beautiful Sunflower Fields.
The 7 Coolest Birthday Cake Bakeries in Providence, Rhode Island.