If you're worried about healthcare workers fighting COVID-19 on the front lines of the outbreak, here's what you can do to help.
1 – Stay Home If You Are Sick.
Call your doctor immediately if you are experiencing symptoms like cough, fever, or sore throat. They will give you further instruction. (But most health care professionals say you should stay home until it feels like someone is "sitting on your chest" and you're having difficulty breathing.) Here are the latest CDC guidelines on what to do if you're sick. As always, call 911 in case of emergency. (See list of emergency warning signs and symptoms here.)
2 – Donate Blood or Volunteer with the Red Cross.
The Red Cross is currently working 24/7 in countries like Italy, Israel, Japan, China, South Korea, Greece, Kenya, the United States, and elsewhere. From the Red Cross website: "In the face of emergencies like COVID-19, the American Red Cross and the entire global Red Cross Red Crescent network join together to ease people's suffering. Find out how you can donate much-needed blood in the U.S. or volunteer at redcross.org."
It's particularly important for sick persons not impacted by COVID-19 that the blood supply in hospitals remain intact. Other countries also need help spreading information and distributing resources in vulnerable communities. This helps ease the burden on health care workers and hospitals in general.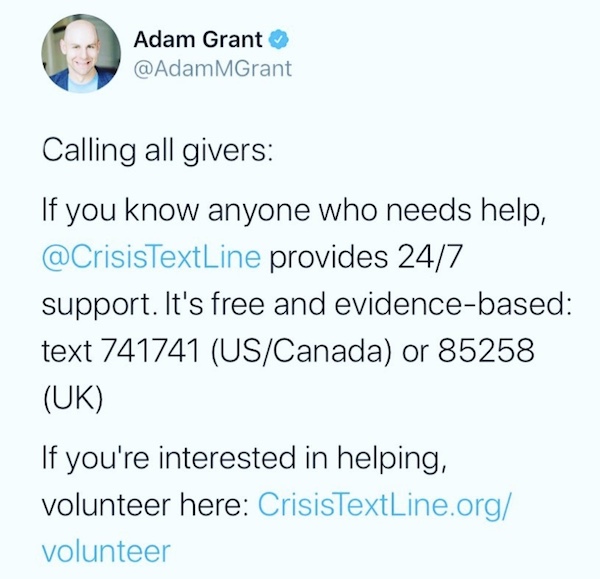 3 – Volunteer For The Crisis Text Line.
Crisis Text Line provides FREE, 24/7 evidence-based mental health support. They are available all the time, but are particularly effective during times of crisis. Right now, they are accepting volunteers to help care givers who are extremely anxious about the coronavirus. This is a good resource if you, yourself, are feeling anxious or overwhelmed, as well.
4 – Donate Hand-Sewn Face Masks.
Vanderbilt University Medical Center has an informative post on how to make hand-sewn face masks that can help conserve precious N-95 respirator masks for hospital personnel. Many other big hospitals are doing the same. While the CDC does not suggest that homemade fabric masks constitute a first line defense against the coronavirus, they can be helpful in other circumstances which in turn conserves the inventory of N-95 masks, which are running in short supply.
If you would like to donate masks, contact your local hospital and see what the protocol is for donation. (Most hospitals cannot receive packages through the mail, nor can they pick them up. This means you will most likely have to drop them off through a drive-up scheme that the hospital will specify to you once you confirm you are able to make and donate masks.) And don't worry: donated masks are laundered and sterilized before distribution.
An interactive map of where you can donate supplies to healthcare workers across America can be found at getusppe.org/give. It also identifies the hot spots most in need.
5 – Listen To The Experts.
Doctors are trained in crisis control and in the latest protocol for preventing the spread of COVID-19. If they tell you to stay home until symptoms get worse, do so. Do not panic. Most healthy people following this instruction can recover safely at home without the potential of infecting other people by going into crowded hospitals. Again, for the latest information on what to do if you have symptoms of COVID-19, visit the CDC website.
Then, call your doctor and listen to their instruction. If you cannot reach your doctor by phone, make an appointment with them or another doctor through an online tele-health service. (Check your doctor's website to see if they are offering online consultations.)