Where to get the best breakfast in Atlanta, Georgia is a matter of fierce debate– but the local spots detailed in this bespoke Atlanta breakfast guide are ones that pretty much everyone can agree on.
Whether you're looking for classic, Southern-style biscuits for takeaway or an upscale brunch spot to see and be seen, there's something for everyone on this list.
Atlanta is a city known for its soul food and Southern cooking, but in recent years a number of impressive, locally-influenced restaurants have popped up on the scene. There's so much delicious food in this city– as long as you know where to look. Service, of course, is reliably friendly, too, which makes Atlanta a great American breakfast city.
Hearty portions, deep-cut flavors, and an insistence on tradition make this burgeoning culinary scene one of the South's most modern. Atlanta, moreover, knows a thing or two about brunch– and how foodies like to eat.
Below, we spotlight the best places to get breakfast and brunch in Atlanta, Georgia– in no particular order. This is a city that revels in hospitality, so you're sure to have a great experience no matter where you dine. (Which is why we love all of these cool Atlanta breakfast spots so much– and I'm sure you will, too.)
Enjoy!
***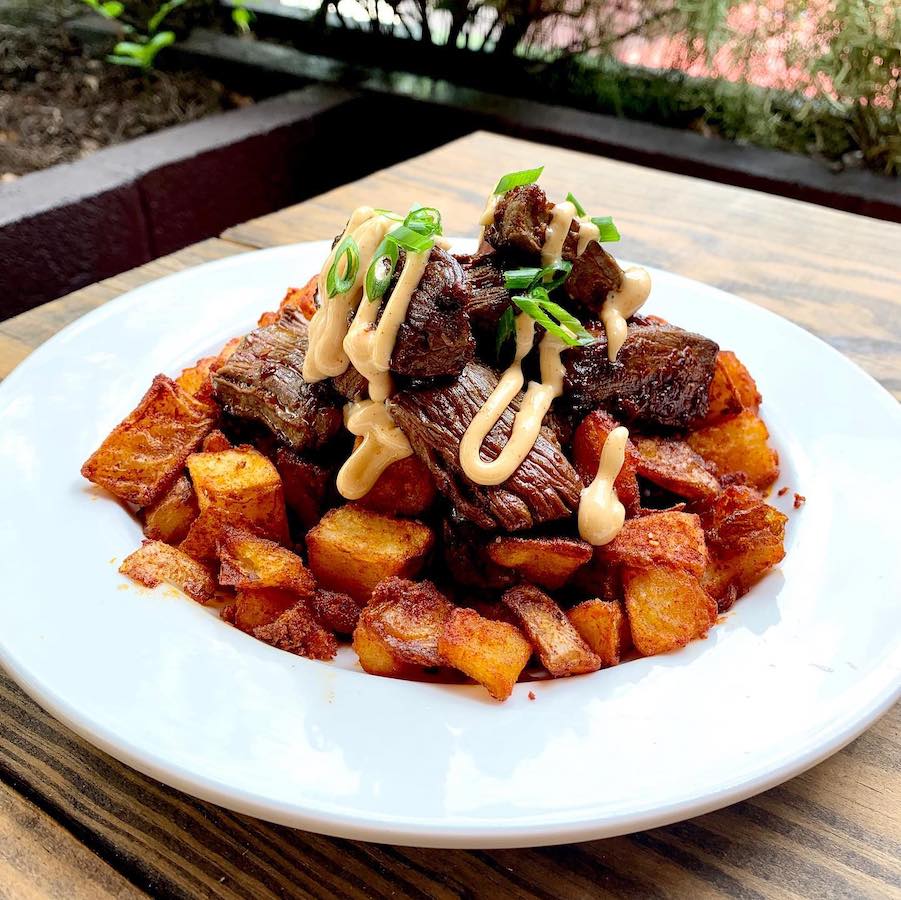 Sun in My Belly
Sun in My Belly is easily the coolest of all the best brunch spots in Atlanta. They serve creative foodie brunch dishes like poached eggs with chipotle hollandaise, roasted sweet potato, honey-glazed bacon hash with a garlic-spinach sauté, and homemade lavender biscuits served with a side of homemade fruit preserves. 🍳🥓🥞
Ultimately, the menu here is constantly changing and iterating, but it's all super delicious. The above is just one example of the "kind" of flavor profiles you're apt to see on the menu at any given breakfast service.
The restaurant's chic n' funky space in the trendy Kirkwood neighborhood is also aesthetically pleasing. The interior features reclaimed furniture, paper lanterns, vintage mirrors, and the like. It's a great place for big parties and lively meet-ups, but it's also great for an intimate breakfast. You choose your vibe.
Certain hipster leans are cliche but welcome. For example, they serve drinks in mason jars, and the tables are all antiques. Above all, the homemade lavender biscuit here is iconic– be sure to try one if you like those flavors.
Otherwise, expect haute twists on classic Southern brunch staples, like their recent savory french toast with spinach + parmesan topped with béchamel cream and sunny-side-up eggs. (It's divine.)
Sun In My Belly also serves what is easily the best mimosa in Atlanta. (That's specific praise, but there are many others out there.) If you're looking for a great brunch in Atlanta, eat here above all else!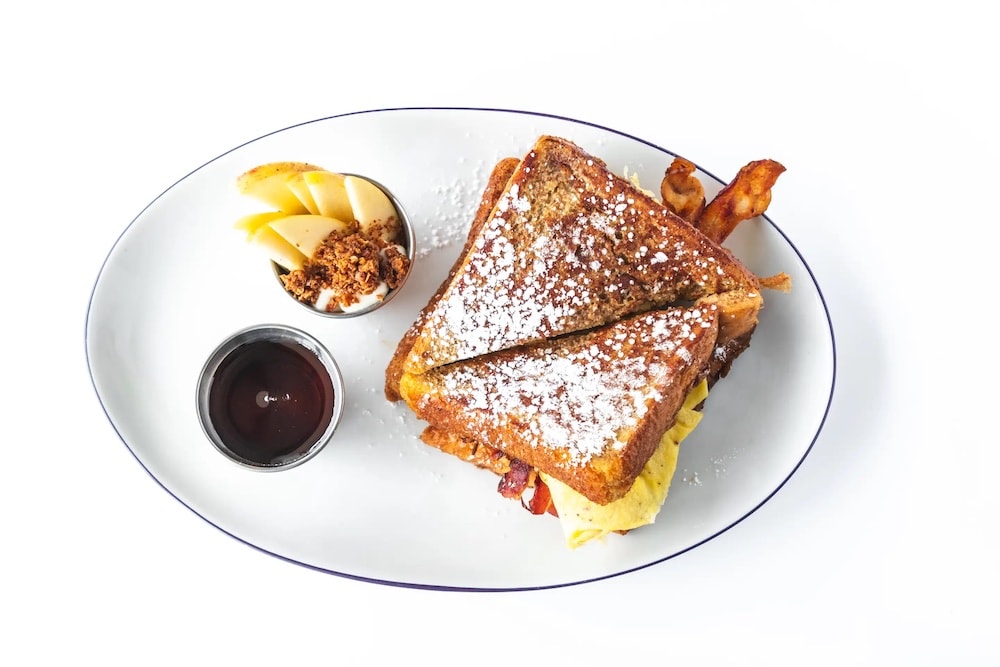 Le Petit Marche
Le Petit Marche is a lovely little gem in Kirkwood that serves some of Atlanta's best breakfast. They specialize in custom-built egg sandwiches (or breadless custom-built scrambles).
We love the hearty "lumberjack" breakfast burrito, the crispy griddle cakes, and the insanely-tasty chicken sausage egg sandwich on a Parmesan biscuit. (All are so good!)
Everything is served on adorable fine bone china and their signature salmon dishes are deliciously inventive.
Take, for example, the recent parmesan-topped salmon biscuit (a fluffy, Parmesan-topped biscuit with a salmon croquette stuffed in between) or the salmon-n-grits. (<— This features a housemade wild-caught salmon croquette atop creamy grits and scrambled cheese eggs topped with Parmesan and the restaurant's own lemon-dill butter. It's served with grilled wheat toast, and it's basically perfect in every way.)
Repeat visitors also love their Artisanal Oatmeal. The restaurant tops this slow-cooked oatmeal with seasonal fruit, housemade almond pralines, a pinch of cinnamon, hot butter, and warm maple syrup. (It's creamy, rich, and sticks to your bones in the best way. So good!)
They also have delicious boutique juices (get the fresh ginger hibiscus juice! it's super vitalizing and invigorating) as well as vegan tofu scramble options.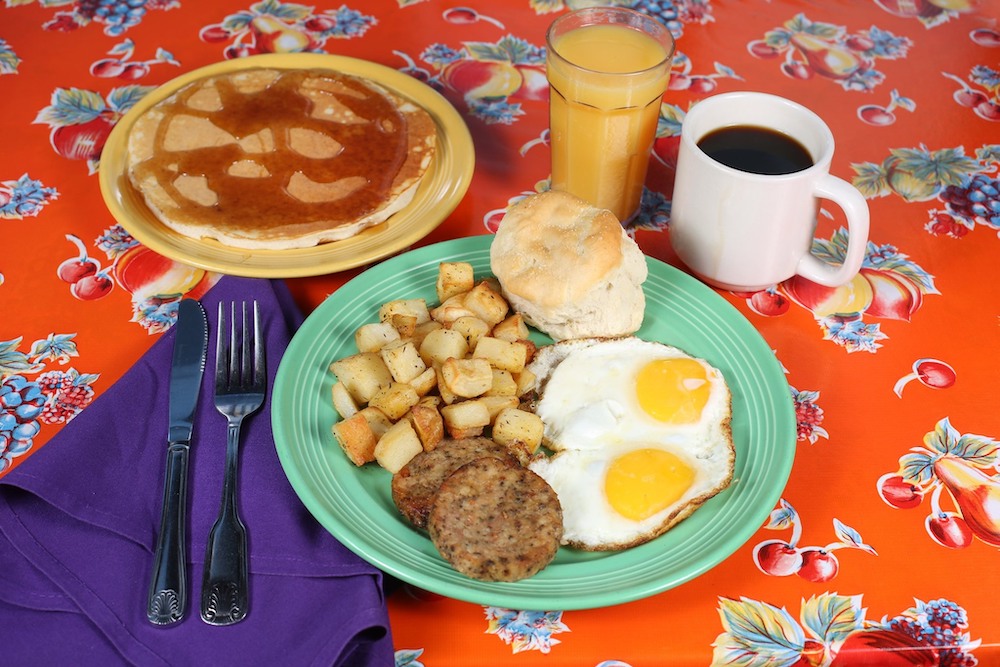 Flying Biscuit Café
Flying Biscuit Café has been serving no-frills, Southern-inspired breakfast-all-day for 20 years! With a whopping 10 locations around Atlanta (Midtown, two cafes in Buckhead, Peachtree City, and Roswell among them,) this sure-to-have-a-line Atlanta brunch staple serves excellent shrimp n' grits, oatmeal peach pancakes, spicy omelets with sausage and bacon, and the like.
(And if you're going closer to lunch: I also love their insane Southern Comfort burger topped with fried green tomato and pimento cheese.)
Ultimately, this cafe specializes in comfort food. They're known for their grits and biscuits.) The portions here are hearty, and most orders come with the eponymous biscuit. (But if yours doesn't, be sure to order one on the side.) They bake almost 5,000 biscuits at every location every day!
For the quintessential experience, visit the original Flying Biscuit Cafe in Candler Park on the East side of Atlanta. It has a classic neighborhood feel. The first time I visited, I got three breakfasts because I couldn't decide what to order. Needless to say, the food could barely fit on the table– but it was all so, so good.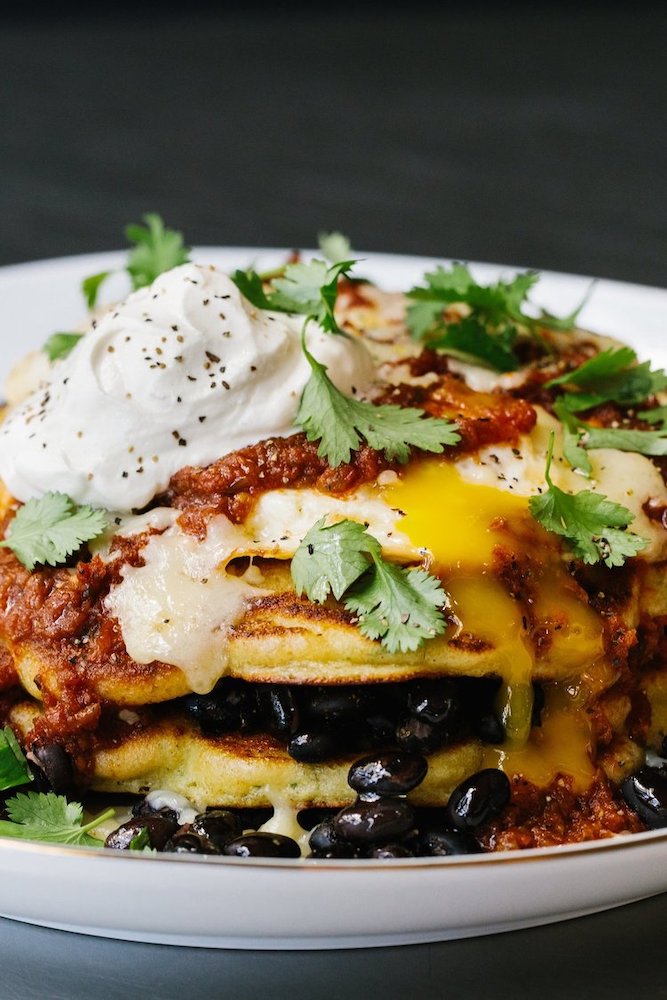 Highland Bakery & Kitchen
When it comes to popular Atlanta brunch spots, Highland Bakery & Kitchen often tops the list. This bustling European-style breakfast bakery and brunch spot is known for its exceptional bread, tarts, pancakes, and french toast.
We love their epic cilantro corn cakes, decadent crabcake benedict, and delightful jalapeño focaccia bread— all signature items.
It's also worth trying the sweet potato pancakes or fluffy ricotta pancakes (yum!) if you're in the mood for a sweet breakfast. Or, whet your appetite by splitting a house-made cinnamon roll with the table.
If you'd rather go savory, the cowboy benedict, breakfast BLT, and burrito de huevos are all winners. Pretty much everything on the menu is outstanding— and like I said, you can't ever go wrong with the aforementioned cilantro corn cakes or decadent crab cake eggs benedict.
The corn cakes, for example, consist of two buttery corn cakes layered with black beans, two over-medium eggs, sour cream, salsa, white Vermont cheddar cheese, and fresh cilantro. (That's a picture of them, above.)
And the lush peanut butter french toast? Forget about it. It's incredible!
Foodies: if you only have time to go to one great breakfast restaurant in Atlanta, Highland Bakery should be it. (If not here, go to Sun In My Belly. These two would be at the two at the top of my list.)
The menu here has a ton of variety, including authentic representations of local Southern staples, as well as skillfully rendered, internationally-inspired dishes.
Plus, the baked goods are always on point, in case you want to take something to go.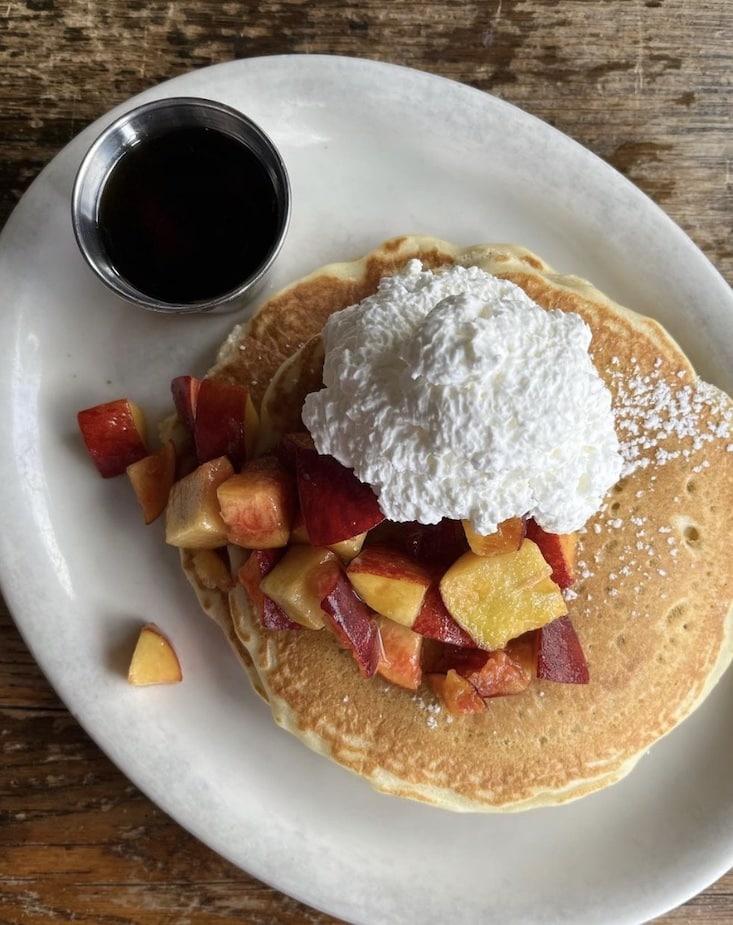 Ria's Bluebird
Go for the gorgeous pancakes! Ria's Bluebird is a great rustic brunch spot that serves a notable all-day brunch (not just breakfast) including a number of exceptional savory items. The food isn't fancy, per se, but it packs a ton of unique flavor and umami.
Ria's Bluebird is also known for its sweet breakfast items, like the above-mentioned rum-soaked french toast and buttermilk pancakes with homemade pistachio & coconut toffee + cardamom whipped cream. Woo! There's a reason why the New York Times once called their pancakes "the world's best".
Contrary to the richness I've detailed above, this hip Atlanta brunch spot also has lighter fare, like tofu scrambles with black beans, broccoli, tomatoes, onions, and vegan cilantro pesto. Other brunch items can be made vegan and vegetarian-friendly, as well.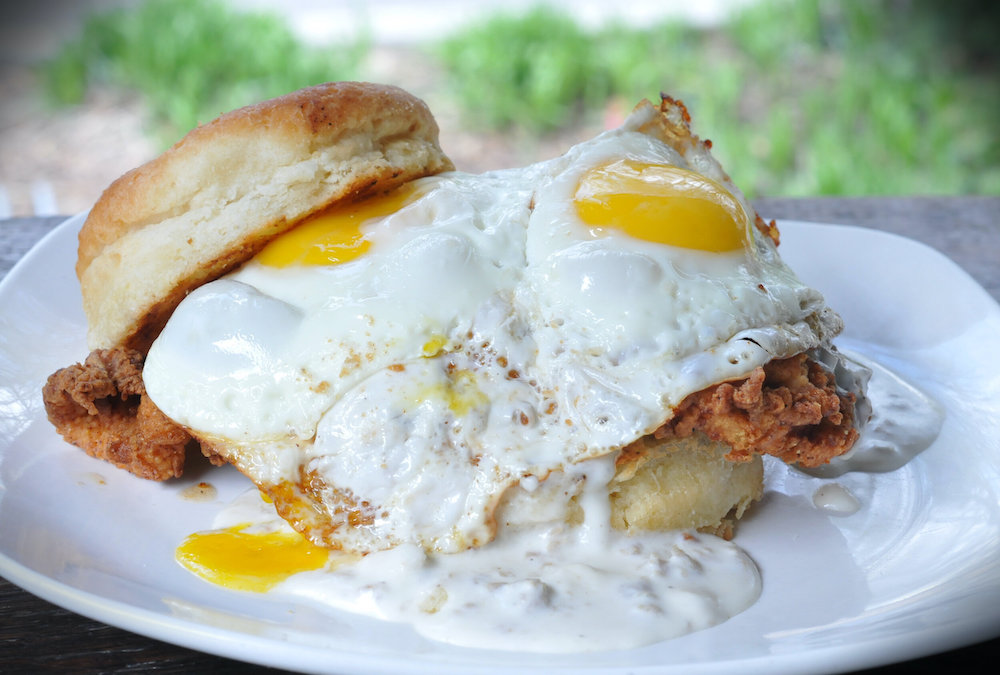 Folk Art Restaurant
Easygoing Inman Park cafe Folk Art Restaurant specializes in all-day diner-style staples like chicken-and-waffles, six kinds of brunch-style eggs Benedict, jumbo biscuits with house-made jams, jellies, or sausage gravy, and an array of sandwiches, eggs any style, delicious bacon, and more.
Ultimately, what feels at first like a hole-in-the-wall serves some of the best comfort food and breakfast items in Atlanta.
From Steak & Eggs to prodigious Huevos Rancheros to the Complete Breakfast featuring Delia's chicken sausage, hashbrowns, and your choice of toast, there's quite literally something on the menu for everyone. (Except, perhaps, for vegans. There are some vegetarian options, but the textbook hollandaise sauce, rich buttery, Food Network awarded waffles, and fried green tomatoes with blue cheese crumbles and ranch dressing are not-to-be-missed.)
We love the heaping fried chicken and waffles with whisky peach compote, as well as the stylish, eclectic decor. Folk Art Restaurant features brick walls and funky interiors akin to those you'd see in more hipster parts of Atlanta– but many locals also agree that breakfast here is a great price, for what that's worth.
Overall, it's an excellent place for a relaxed breakfast or brunch in Atlanta. (Plus, they now have a second location in Decatur, so the wait shouldn't be long no matter which you go to.)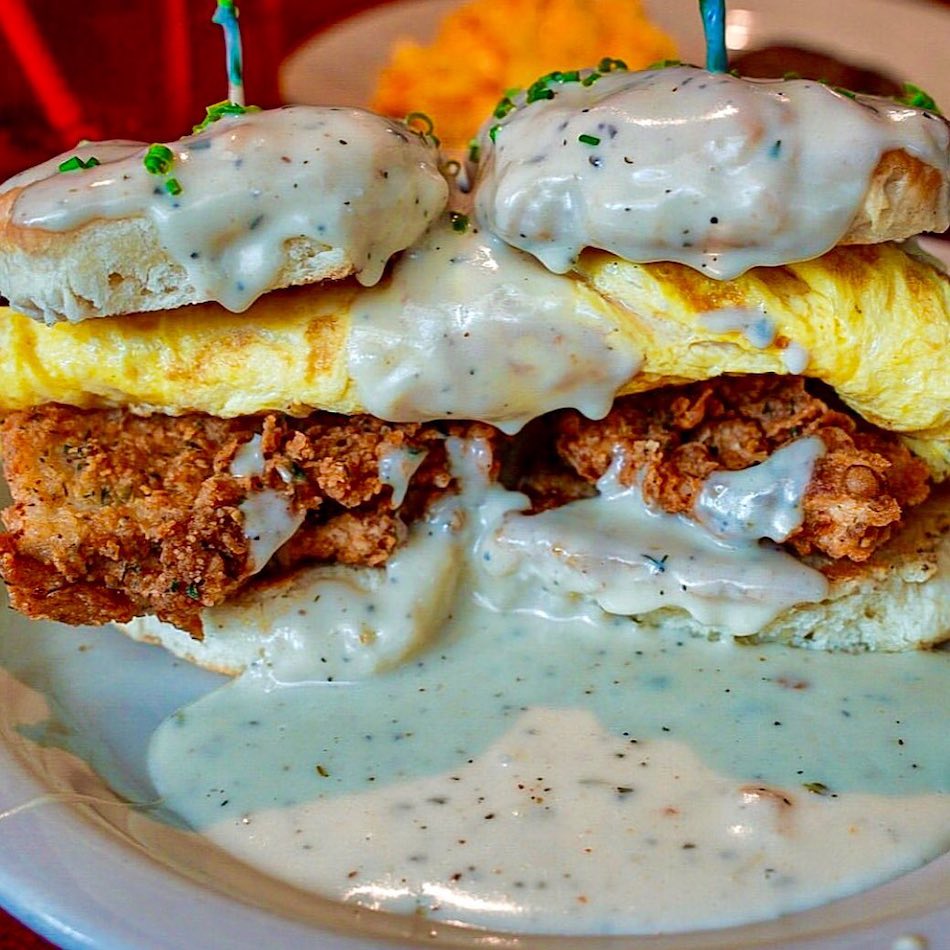 Atlanta Breakfast Club
The homey Atlanta Breakfast Club is a modern diner in Midtown that specializes in soul food and Southern cooking. When it comes to ABC, the shrimp n' grits, seasonal breakfast tacos, Georgia peach waffles, decadent cinnamon rolls, and killer breakfast biscuits are where it's at. (Ask about the gravy-soaked "P. Biscuit", above shown.)
Like most of the best breakfast spots in Atlanta, they serve awesome chicken and waffles and peach cobbler french toast. Both are amazing. (Those Atlanta breakfast staples come with the territory.) Still, they manage to put their own spin on the classics, so that each dish feels unique to them.
In general, ABC is a traditional Atlanta breakfast spot– you'll find diner classics like Old Fashioned Oatmeal and Fresh Fruit & Yogurt on the menu, as well– but they do everything right.
From the subtle smoked pepper gravy on the Gulf Shrimp n' Grits to the fluffy eggs in the Breakfast Bowl, everything on Atlanta Breakfast Club's menu is executed with finesse.
Ultimately, the limited menu makes sense. You don't need a huge menu when you already know how to deliver the hits! 🙂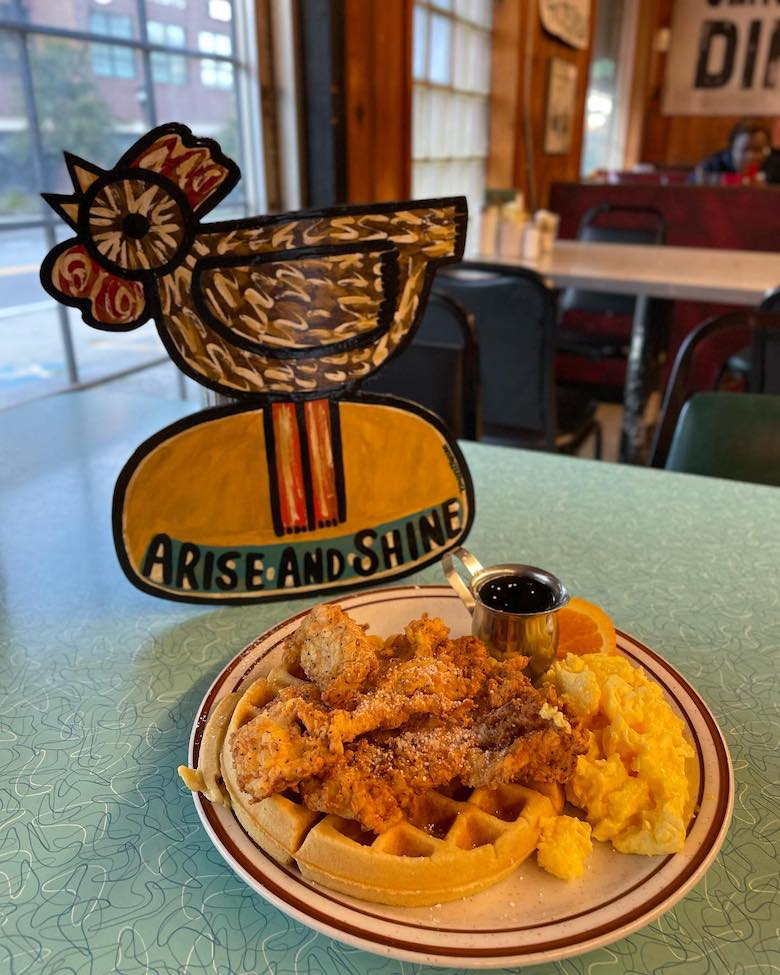 Home Grown GA
Home Grown GA is a really charming, old-school diner-style destination for true Southern Comfort breakfasts made from locally-sourced ingredients. In addition to being well-awarded but still somehow always under the radar, it's also super affordable!
The restaurant itself is housed in an old home and they are known for their simple, basic Southern breakfast staples like biscuits, grits, and eggs. They make everything with heart, and the above-shown fried chicken and waffles as well as the Comfy Chicken Biscuit are the most popular dishes with locals.
For a real indulgence, try the Buffalo Comfy— a huge plate of fried chicken smothered in buffalo sauce and sausage gravy atop a comfy biscuit. You'll probably need a nap after.
~ Honorable Mention ~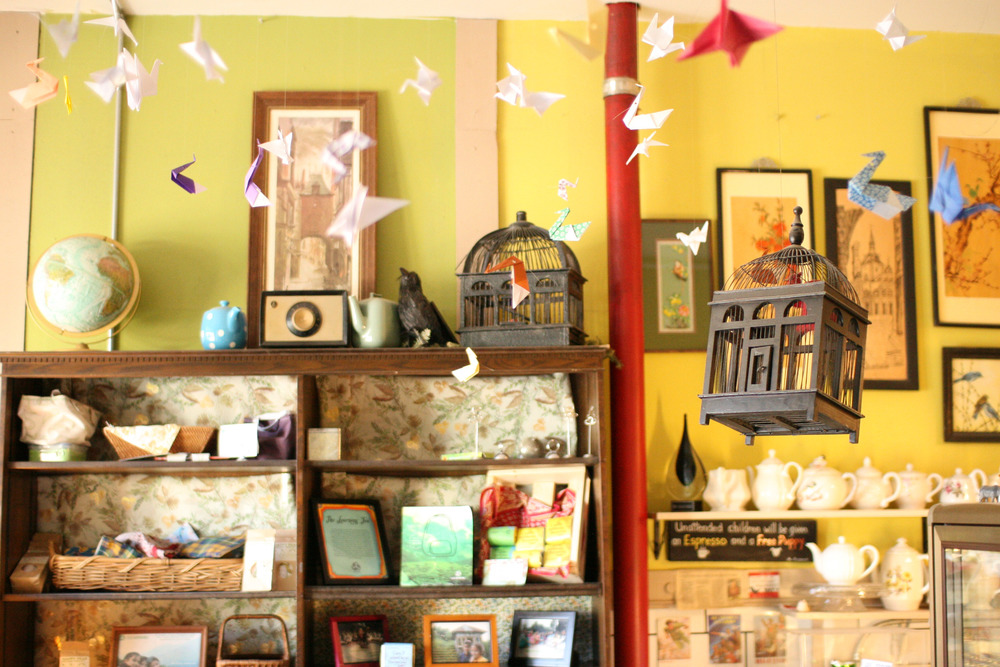 Dr. Bombay's Underwater Tea Party
Enduringly-cozy cafe Dr. Bombay's Underwater Tea Party isn't a breakfast restaurant so much as a lovely tea house with truly excellent breakfast pastries.
If you're a coffee and sweets kind of breakfast person, this is a fun place to hang out. I love the seasonal pumpkin scones and the laid-back high tea service, which has strong Mad Hatter vibes. Come for tea and books, stay for free WiFi and fabulous muffins.
Overall, this tea and book shop exhibits lots of eccentricities– birdcages, upside-down umbrellas, paper cranes, and a litany of signage explaining the café's charity work all hang from the ceiling. (Dr. Bombay's charity, The Learning Tea, gives scholarships to underserved women in India– a cool bonus!) The scones are excellent, and the service is warm and friendly.
The menu here boasts an excellent variety of coffee, tea, pastries, sandwiches, scones, and ice cream. There's a cluttered, old-time-y feel to the space.
Plus, the owners welcome laptops, so it's perfect for camping out on a rainy afternoon. (And for what it's worth, this is also a great place to kill time if you're waiting for your name to be called off the waitlist at the nearby Flying Biscuit Café, detailed above. Plan to go here early for tea, and hang out until breakfast.)
***
Related: 20 Cool Things to Do in Atlanta (A Charming Travel Guide).